Nektony Duplicate File Finder For Mac- Complete Review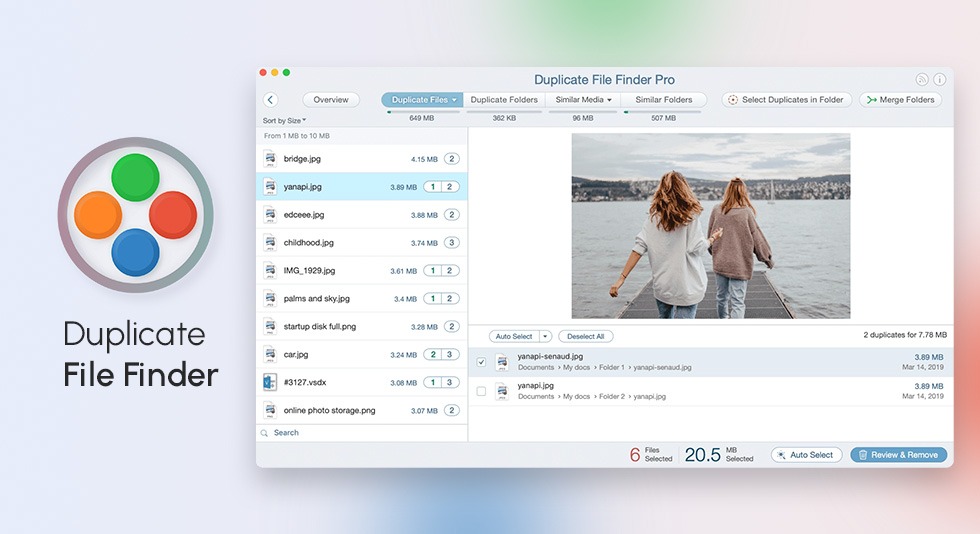 Nektony Duplicate File Finder is a smart tool for managing your precious space on the Mac while deleting duplicate photos, audio, videos, and documents in a snap of time. It is known for improving the speed of your computer as the unnecessary data is removed as well as there is less pressure on the CPU. With a good scan of all the available drives, this duplicate file finder comes with ease of use and a navigable interface.
Nektony Duplicate File Finder – Review
Table of Content: 
Why use Any Duplicate File Finder?
Nektony Duplicate File Finder – Interface
Nektony Duplicate File Finder For Mac – How It Works
FAQ's On Nektony Duplicate File Finder For Mac
Quick Summary: Nektony Duplicate File Finder
Rating: 4.5*/5
Supported Device: macOS 10.12 or later
Price: $19.99

Get Nektony Duplicate File Finder For Mac
Nektony Duplicate File Finder for Mac is a professional file finder that can easily find duplicate audio files, videos, photos, documents, or any other extensions available inside the system. Moreover, the interface is very simple and easy to work upon so that new user can also put their hands on it.
Cleans tons of similar photos
Compare similar folders and merge them
Most convenient way to clean up the system
Features At A Glance
It can detect duplicate and similar photos
Scans out all the internal as well as external drives
Helps merge similar folders to avoid confusion and allow better organization
Automatically deletes duplicate folders
Preview option before deleting duplicate files
Cost-effective and budget-friendly
Pros Cons:
Pros:
Most of the functions are free of cost and can be enjoyed by anyone.
Very good scanning speed even if the hard drive is heavy.
Cons:
Some settings to find duplicate files are complicated.
Duplicate files are no less than a hurdle in everyday work on your Mac. Even then we do not pay much heed to it, this becomes a reason for the slowdown of the system as well as working hurdles. Before we realize it, duplicate files become a major problem and this requires you to keep a smart software that can delete duplicate files on Mac easily and save ample amount space for further storage.
Why Is It Smart To Use Duplicate File Finder Pro?
There are so many reasons why you should look for this tool to clean away duplicate files.
1. Saves Cost: As and when storage allocation is in a better place, you automatically save money by not buying more storage space.
2. Better Management of data helps you work efficiently and keeps the system organized, irrespective of the data size.
3. The system speed is enhanced to a good extent as redundant data is eliminated, space is saved and there is less pressure on CPU processing.
4. Your network also remains optimized as you don't upload the same data twice and make the work system much more reliable.
5. Storage allocation becomes efficient as the amount of wastage is considerably down.
Read This- Review – Cisdem Duplicate Finder For Mac – Is it the Best Tool To Detect Duplicates
Nektony Duplicate File Finder – Interface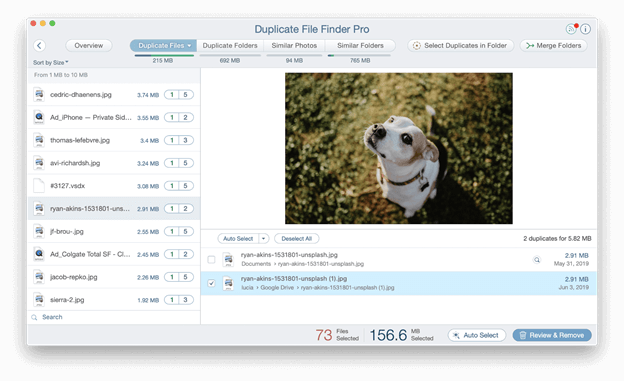 It has a very straightforward and clear interface that allows you to choose duplicate files, duplicate folders, similar photos, and similar folders easily. Moreover, you can decide where to merge the folders or simply select duplicate folders smoothly. All the duplicate files are listed on the left-hand side of the interface and on the right, you can preview the files before deleting them and creating space.
Nektony Duplicate File Finder For Mac In Detail Review – How It Works
Coming to one of the best duplicate file finders on Mac, this tool is just what you need in terms of functionality, ease of use, and accuracy of results. Let's explore its features one by one.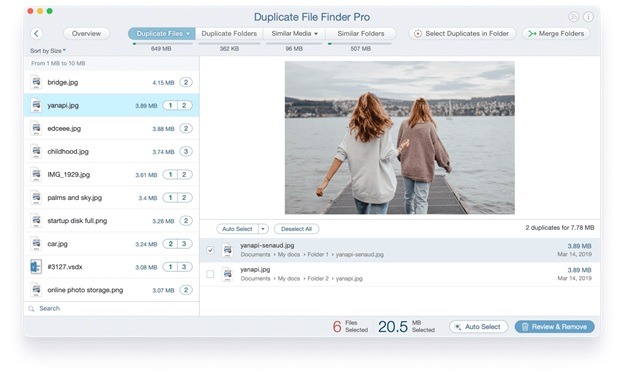 1. Detects Duplicate & Similar Photos
We often believe in deleting duplicate photos but similar photos have another set of burdens. Similar photos are usually taken when you click several pictures in burst mode or while setting up the right angle and quality of the picture. No matter how many pictures you take, there are only a few which are perfect. So to remove similar pictures, you can just run a quick scan of this tool and get rid of unwanted pictures in one go. Probably, the easiest way to make space in the system and organize your photos in the best manner possible.
2. Scan All Drives
There is no bar on the type of drive you wish to scan for finding duplicate files. This means that Duplicate File Finder for Mac is capable of scanning all the drives, folders, and Library collections available with you. It even supports scanning of external hard drives and they can be organized well while placing it in your system. You can choose to specify the file extension type and size for a better division of files.
3. Merging Similar Folders
Another advantage of using Duplicate File Finder for Mac is that it can easily detect similar folders which have unique as well as duplicate files available. The best part is that folders could also be merged well by easily moving or copying files from one folder to another. Fewer folders, fewer problems!
4. Setup Auto Deleting
You don't need to worry about empty folders with this duplicate file finder for Mac as you can choose to auto-delete the empty folders which usually become empty as and when cleaning up of the system takes place.
Must Read- Duplicate Finder and Remover For Mac: In-Depth Review
5. Preview Feature
One other way to use this tool is to preview all the files before deleting them so that no wrong file is ever deleted. You can also decide whether you want to delete photos permanently or simply put them in the Trash folder from where recovery is also possible. This shows that you have a dynamic hand over this tool and you can just customize it according to your preferences.
6. Cost & Pricing
This duplicate file finder certainly stands out in terms of cost as well because so many features here are available for free. You can easily detect and delete duplicate files without any further assistance. However, you can look for its upgrade with a one-time purchase. For this, you have: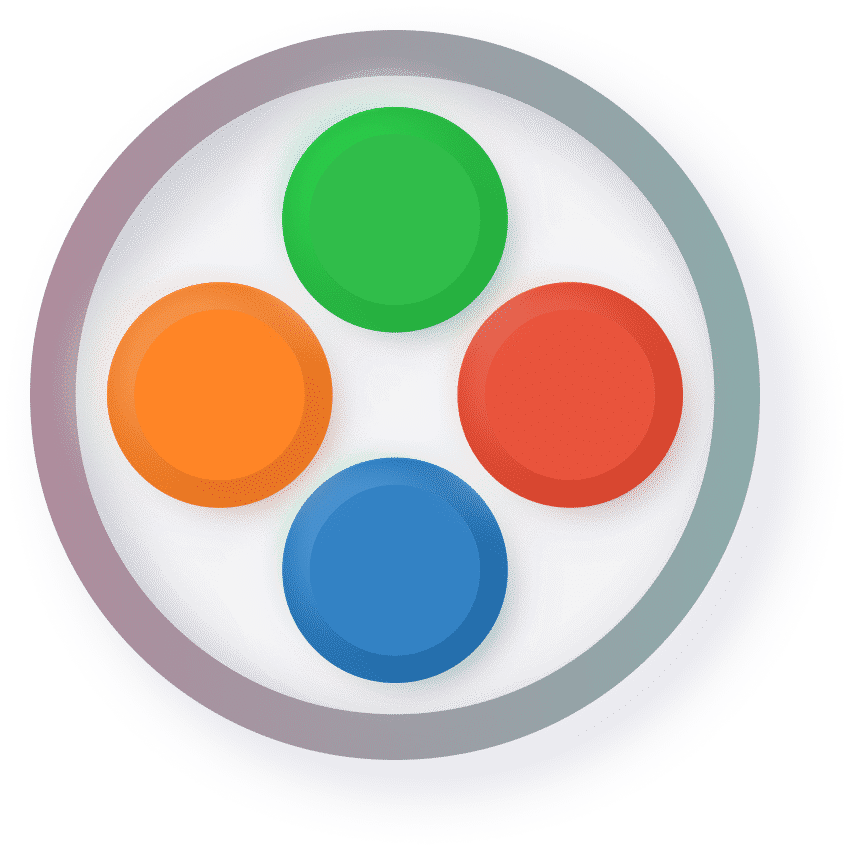 Get Nektony Duplicate File Finder For Mac
$19.99 for 1 Mac
$64.95 for a family pack
As and when you choose the upgrading plan, you get to locate similar photos, merge folders, search the hidden files in any location of the system, and many more. Moreover, it is recommended and used by millions of people around the world and the results have mostly been positive.
Read This- Duplicate Photo Fixer Pro – Is It the Best App For Detecting Similar and Duplicate Images ?
FAQ's On Nektony Duplicate File Finder For Mac
Q1. Which is the best duplicate file finder for Mac?
Duplicate Photos Fixer Pro, Nektony Duplicate File Finder Pro and Gemini 2 are some of the best duplicate file finder programs for Mac.
Q2. How do I remove duplicate files on Mac?
Launch Duplicate Photos Fixer Pro on Mac, click Start Scan after adjusting the settings and auto-mark the duplicates to finally delete them.
Wrap Up
We hope that you enjoy the fastest scanning of this duplicate finder for Mac as well as get rid of all the duplicate files along with similar photos using this tool. According to us, this is one of the best choices when it comes to the removal of duplicate files from Mac. Have you tried the application yet? If not, we recommend you to try Duplicate File Finder for Mac for an optimized Mac.