Best CleanMyMac Alternatives To Optimize Your Mac 2023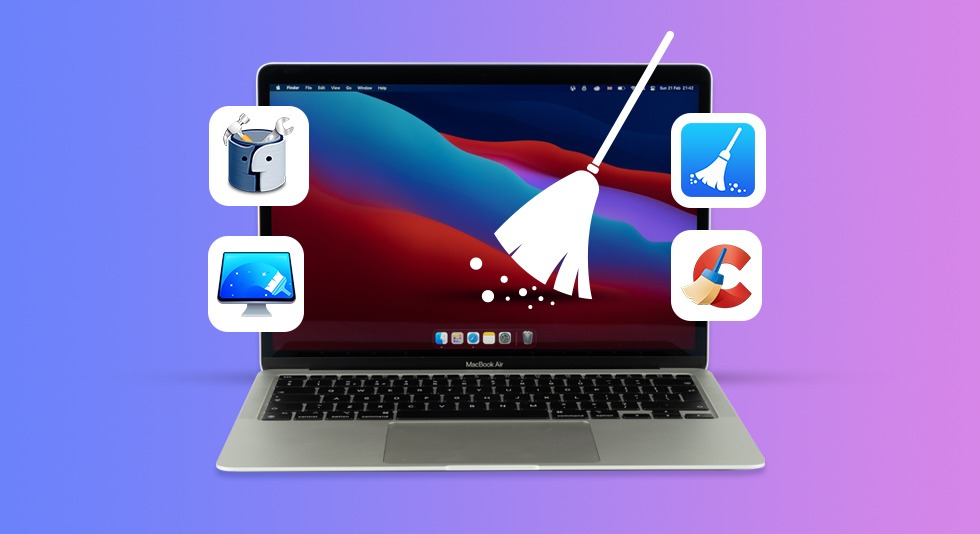 When it comes to cleaning and optimizing your Mac, it is usually CleanMyMac that comes to mind. However, CleanMyMac is yet not preferred by some users due to it being expensive. Moreover, when compared to others, it offers the same features. Moreover, this application is a little resource hungry and the interface is a bit cluttered which could be overwhelming for many users. That's when the need to find CleanMyMac alternatives arises.
In this blog, we have reviewed and tested the CleanMyMac alternatives for numerous parameters like budget-friendly, performance, and optimizing features they offer.
What Does CleanMyMac X Do?
CleanMyMac X is one of the best Mac cleaning tools and for several reasons, some of which are mentioned below –
Cleanup A Variety of Junk: It helps you restore tons of space by cleaning junk in the form of system junk, mail attachments, iTunes junk, and trash bins. And, while you clean all of it, you can see how much space you have been able to recover.
Malware Removal: With CleanUpMyMac X by your side, whether or not you'll need another Antivirus is your call, but it does the job of removing malware and privacy traces quite well.
Enhance Speed: CleanMyMac X gives you complete control over apps. It helps you take a grip of login items, launch agents, and hung applications, which are known to eat up system resources.
Thoroughly Uninstalls Apps: CleanMyMac X uninstall apps so that they leave no leftovers such as plugins, widgets, extensions, etc.
Cleans Up Files: CleanMyMac X is a specialist when it comes to identifying and removing large and old files. It even helps in shredding files so that they can't be recovered.
Why Do You Need A CleanMyMac X Alternative?
Now, you might be wondering why you should consider CleanMyMac X alternatives. Like any other utility, CleanMyMac X, too, lacks some features, because of which you may have to consider going for an alternative. For instance, it doesn't have duplicate file detection, a feature you can find in some other competitors. Secondly, its cost might compel you to look at some other alternatives.
Best Alternatives to CleanMyMac:
Sl. No
Product Name
Features
Price
File Size
Current Version
macOS Compatibility
1.
Disk Clean Pro

Automated junk cleaning
Optimize storage space by removing large and duplicate files
Restore space by removing old and unused files and old downloads

 $26.99
2.3 MB
6.1
macOS 10.7 and later
2.
CCleaner

Clean system and browser junk
Track and remove unneeded large files
Uninstall apps with their leftovers

Free. Then, $24.95
34 MB
2.4.141
macOS 10.7 or later
3.
MacBooster 8

Clean junk files and free up disk space
Defrag mac
Reduce startup time on Mac

 Free. Then,  $59.95
32.64 MB
8.2.0
macOS 10.7 and later
4.
AVG Tuneup For Mac

Clear hidden junk
Remove browser history and protect privacy
Locate duplicate files

$49.99
113 MB
NA
macOS 10.11 and later
5.
Stellar Speedup Mac

Clean cache, system junk, log files, trash files, startup disk
Uninstall apps with a simple drag and drop
Get rid of duplicate files

Free. Then, $39.99
250 MB
4.0.0.3
macOS 10.9 and later
6.
BuhoCleaner

Clean Mac junk with a single tap. This is also includes apps with their leftovers
Duplicate file remover widget
Get rid of large files and Xcode cache

Free. Then, $14.99 for 1 Mac/ lifetime
55.4 MB
1.7.3
macOS10.10 and later
7.
DaisyDisk

Remove junk files and free up storage space
Visual representation to expedite cleaning process
Analyse how much space is allocated to various categories.

Free. Then, $9.99
NA
4.6
10.7 and higher
8.
OnyX

Run miscellaneous cleaning and maintenance tasks.
Configure parameters in applications, dock, Finder and Safari,

Free
4.7 MB
4.0.2
10.2 and higher
9.
Drive Genius

Protect and repair drives
Repartition drives
Remove malware

$79 for 3 Macs per year
Approx 67 MB
6.2.2
macOS 10.12.6 or later
10.
iMobie MacClean

In-depth junk cleaning
Internet cleanup features removes privacy traces
Remove large and old files, unwanted duplicates, and redundant applications with leftovers

 Free, $19.99 for 1 Mac
100 MB hard drive space
3.6.0 20190926
macOS 10.7 and later
1. Disk Clean Pro
USP: Best for budget cleaning of Mac
Price: $26.99
Developed and designed by Systweak software, this is an outstanding Mac cleaner that is also available for all the recent versions of Mac. it completely ensures that Mac gives you the smoothest performance with its one-click care, junk cleaner logs cleaner, and removal of unnecessary files like crash reports and partial downloads. Just like the previous one, it can also remove duplicate files, old and large unused files hogging up the system for no reason.
Despite offering so many features in one place, it comes in at a very affordable price which is $23.99, and gives users a seamless experience as they use their Mac.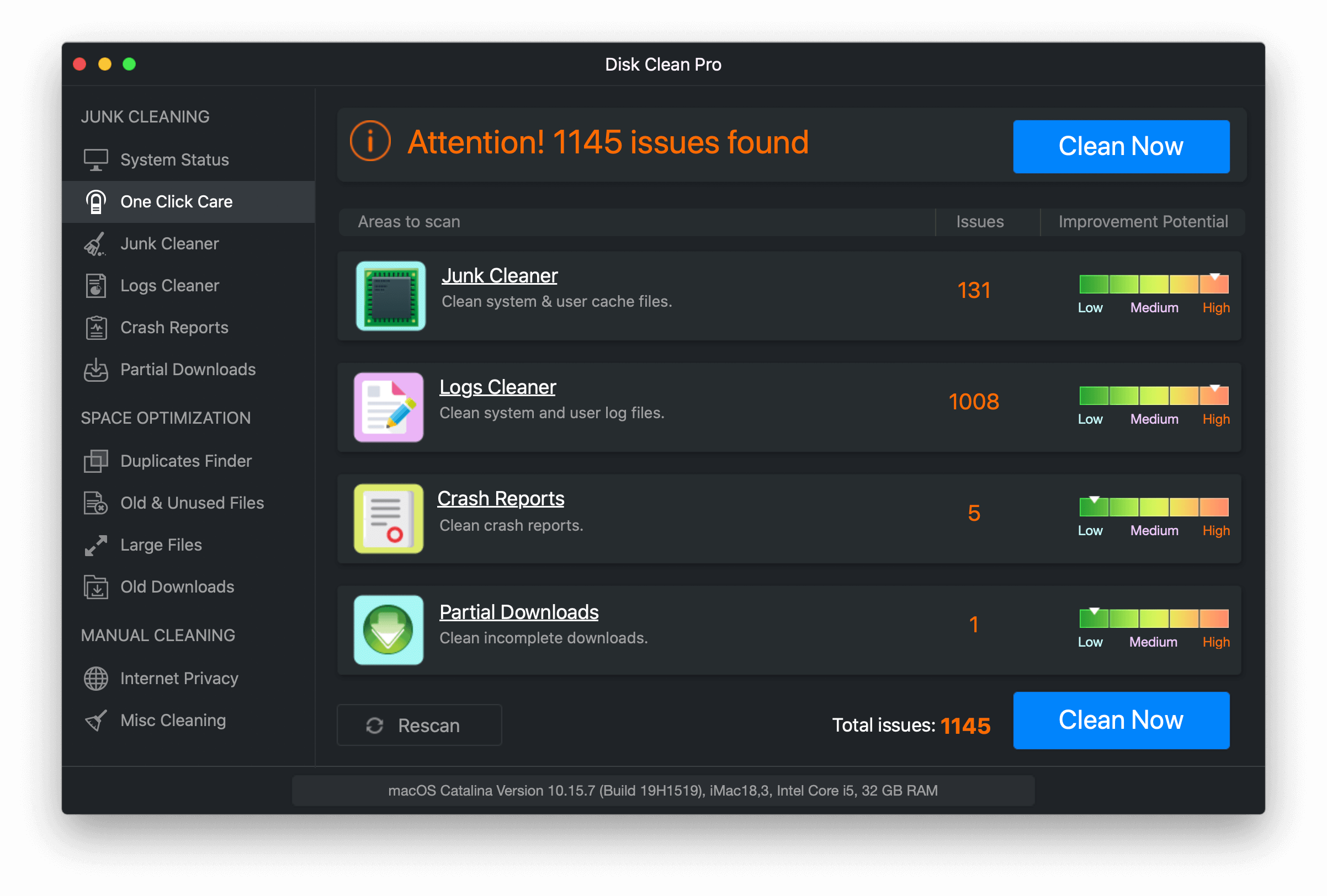 Pros:
Speedy cleaning and optimization process and make sure that no unwanted data is left behind.
Have several advanced utilities.
Very affordable for any Mac user and falls within the proper budget.
Cons:
The older Mac versions may find some glitch in its running.
Also Read:- Review: Disk Clean Pro Is The One-Stop Solution For Your Mac Cleanups
2. CCleaner
USP: Recovers huge chunk of space
Price: $24.95
How about having a CleanMyMac X alternative that has similar features, years of experience, and has different modes of cleaning available? We believe you would love to have this tool in your Mac which has a standard as well as the professional version available. The standard version gives you a complete solution for cleaning up Mac, online tracking features, and management of machines. At the same time, professional mode gives you the option to keep your browsing history hidden, remove internet hackers, and allows quick product updates.
Having support for 24×7 is also much required for the product's effectiveness and this is where CCleaner stands right.
Pros:
It is all in one Mac cleaner and optimizer tool.
Supports budget users
Extremely easy to use and has a backup of years of experience.
Cons:
The navigation looks a bit cluttered and may confuse newbies for once.
Read Also:- A Complete Review of CCleaner For Mac
3. MacBooster 8
USP: Clean and unique dashboard
Price: $59.95
Coming from the house of Iobit, this tool has a collection of features to remove system junk, find out viruses and malware, and cleans the memory smartly. It has a unique TurboBoost feature that can change the speed and performance of the system like never before and the system is expected to run just like a new one.
With that, get startup optimization done and protect yourself from unused applications using its smart Uninstaller. Also, your large and unused files would be removed as well as duplicates will just swish away, all you need to do is click a button to get it all done.
Pros:
This CleanMyMac alternative has full security and cleaning features decked up.
It can clean up more than 20 types of junk files hidden in the system.
Has a powerful scan engine and includes TurboBoost for speed enhancement.
Cons:
The older Mac version may not be compatible with it.
Read Also:- IObit MacBooster 8 Review
4. AVG Tuneup For Mac
USP: Offers seamless Mac experience
Price: $49.99
One of the best CleanMyMac X alternatives, it is a leading cleaning and optimization tool. It has been designed to find and clean duplicate files, temporary files, trash items, junk files, and even poor-quality pictures. It can even scan system storage efficiently to remove hidden junk.
Capable of smoothening the function of Mac, one shall download this Mac cleaner and get rid of items that cause fluctuations in your Mac.
Download AVG Tuneup for Mac Here
Pros:
Address the issues which are bothering Mac's running and performance.
Has a powerful scanning engine to deep scan and clean the storage system.
Make sure that the photo collection is streamlined efficiently.
Cons:
It is a bit of an expensive option when compared to other products.
5. Stellar Speedup Mac
USP: Detects boot volume
Price: $39.99
Loaded with advanced algorithms, Stellar allows you to free up the disk space and improve system performance efficiently. You can get your cache files, log files, and system junk removed without any issue and even get the trash cleaned up. It is also known for removing duplicate files and unused applications which take up space without any need.
It can even automatically detect the boot volume while also allowing you to schedule automatic tasks where cleaning could be done at a specific time.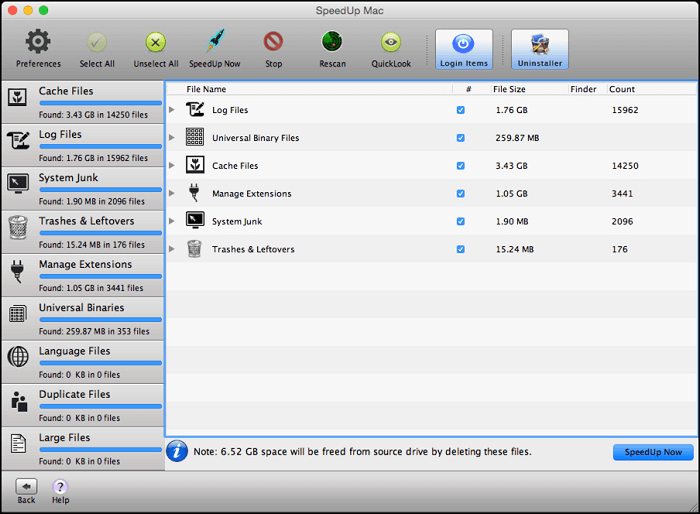 Pros:
Clean all the major junk files within no time
Helps in removing unwanted login items as well as duplicate files
Enjoy a 30 days trial before buying the product.
Cons:
It is known as a resource-hungry application.
6. BuhoCleaner
USP: All in one cleaner to uninstall apps, delete duplicate and junk files.
Price: Free. Then, for $14.99 for 1 Mac (Lifetime subscription)
BuhoCleaner is yet another excellent alternative for CleanMyMac X, quickly gaining popularity. One tool helps you free up disk space by cleaning junk. It even has a dedicated app uninstaller capable of removing apps with their remnants that are otherwise impossible to remove. It also helps you remove large and duplicate files, offering you a total solution to let your Mac breathe freely.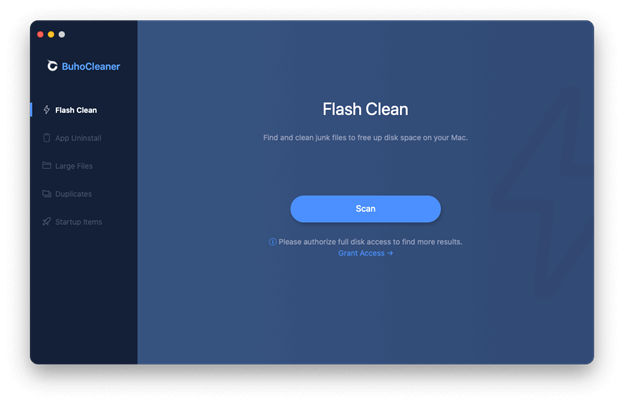 Pros:
1-click "Flash Clean" to find and remove junk and free up precious disk space.
You can see how much space you will be able to free up.
Remove large and duplicate files. You can even filter large files.
Take full control of Startup items.
Cons:
The file removal limit is restrained in the free version.
Malware removal module missing.
7. DaisyDisk
USP: Color-coded description of Mac files
Price: $9.99
One another CleanMyMac alternative is here which is not just great in working but also is visually appealing. It scans the system to find out all the apps which are resource-hogging and making the system sluggish. Moreover, the unique interface that it possesses makes everything easily understandable to a newbie or an advanced user.
Let DaisyDisk scan the system with its fastest scanning engine and cleanup as well as optimize the functionality of your Mac.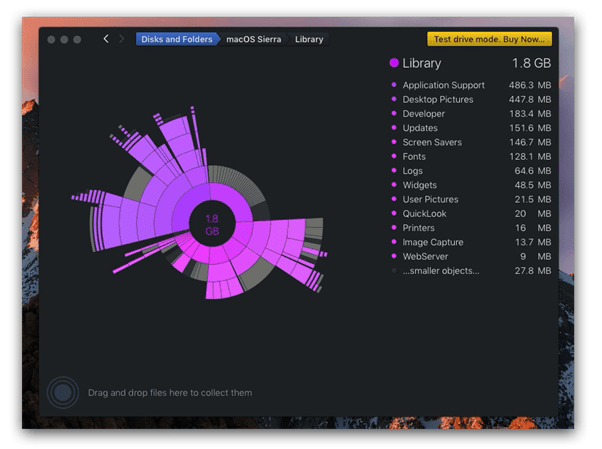 Pros:
A very good option for budget users.
Get color-coded reports for easy view and understanding of Mac's internal space.
The interface is appealing to any new person.
Cons:
It does lack security features that are available in other tools.
8. OnyX
USP: Free CleanMyMac alternative
Price: Free
Welcome yourself to a multipurpose utility tool that can clean and optimize your Mac for free. Even though it's free of cost, it has a very clean and user-friendly interface with an abundance of basic features. Such features allow you to clean, maintain and rebuild your Mac. You can also automate all the cleaning and optimization tasks based on your convenience and get your Mac ready for a new run.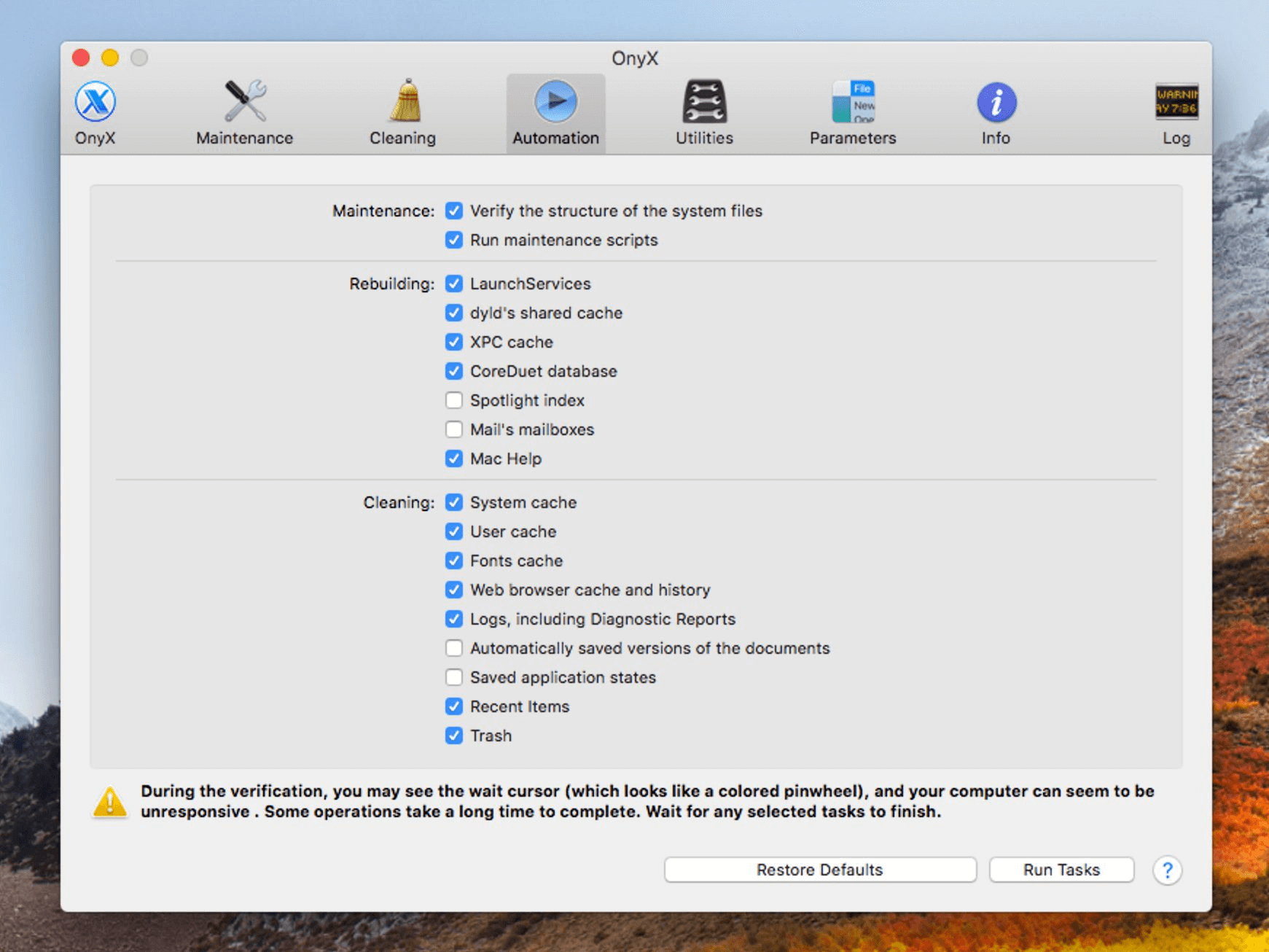 Pros:
Performs free and basic cleaning features very smoothly
It is very lightweight and does not eat up the resources
Offers compatibility with latest Mac versions
Cons:
No advanced cleaning features included
9. Drive Genius
USP: All-in-one tool to free up storage, backup contents via clone, and protect Mac from malware.
Price: $79 for 3 computers per year
Drive Genius might not be a cheap CleanMyMac X alternative, but it sure is a force to reckon with for cleaning, optimization, and security. Like CleanMyMac, Drive Genius has all the features that can help you clean your mac inside out, and side by side, you can even combat any impending or incoming malicious threats. You can even clone or make an exact copy of the contents of one of your drives to another drive. A clone is the most efficient and exact data possible as a backup.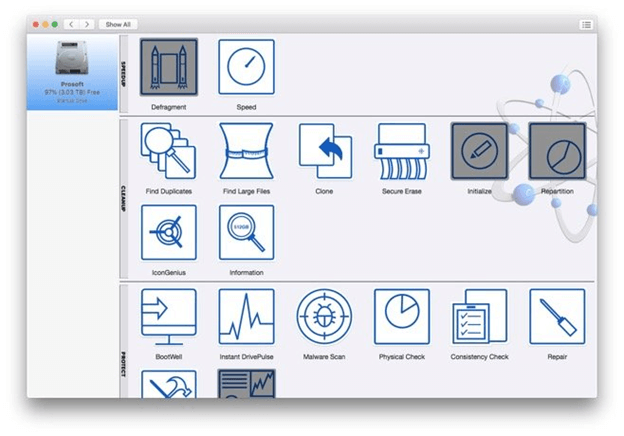 Pros:
Comprehensive tool for cleaning Mac, repartitioning drives, detecting and removing duplicates and large files.
Initialize drives to use with other operating systems such as Windows.
Remove malware
Cons:
Scanning could be time-consuming
Certain tasks could prove slightly intimidating for a beginner user
10. MacClean
USP:  remove redundant junk, free up hard drive space and safeguard security with one tool
Price: Free, $19.99 for one computer
Is your Mac cluttered with unwanted junk that takes a toll on your storage and productivity? MacClean is a CleanMyMac alternative that can come to your rescue. While it efficiently conducts an in-depth cleaning to remove deep-rooted Mac junk, it also safeguards your privacy while browsing the world wide web. With this CleanMyMac alternative, you can erase the traces of recently opened apps, file folders, and documents. Or even web servers, for that matter. Want to know more about this CleanMyMac X alternative? Here is an inside-out iMobie MacClean review.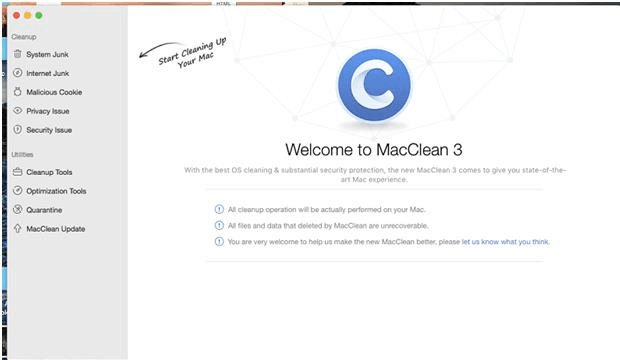 Pros:
Easily find what's taking up space and remove it.
Get rid of malicious cookies that hackers can bank upon.
Remove identity traces such as traces of recently opened apps, web servers, etc.
Cons:
Occasional crashes have been reported by users.
Lacks app uninstallation.
Conclusion
We hope that you have found the best alternatives to CleanMyMac and one of the best Mac cleaners already. We would like to know your views on this in the comments below and your choice of alternatives here. If you ask us, we recommend you to try TuneUpMyMac and Disk Clean Pro for sure.
FAQs: Best CleanMyMac Alternatives For Mac