Apple Mail Not Working? Try These Fixes!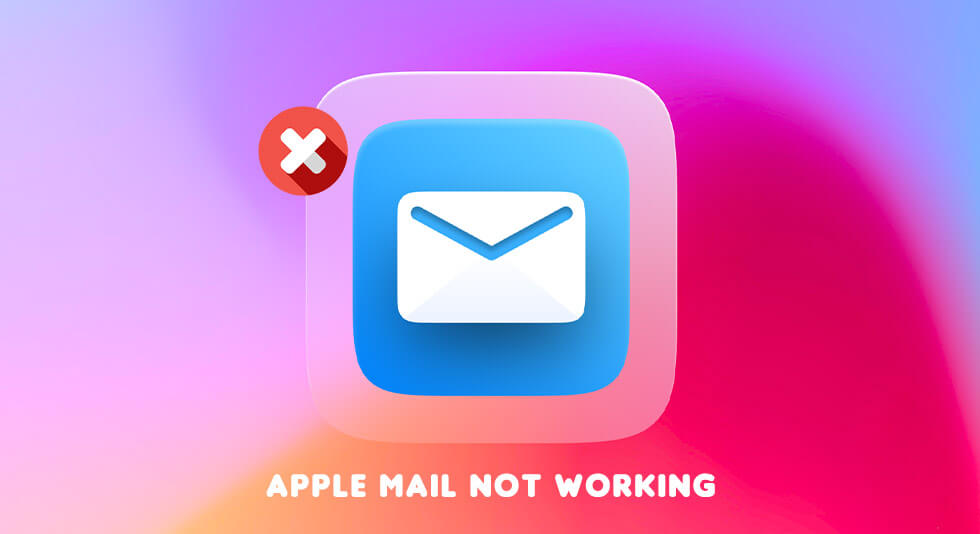 Is Mac Mail not working? Don't worry! You've come to the right place. For millions of Apple users, the native "Mail" app has been a staple choice, offering a seamless and intuitive email experience. However, just like any other software, even Apple Mail can occasionally encounter issues, leaving users frustrated.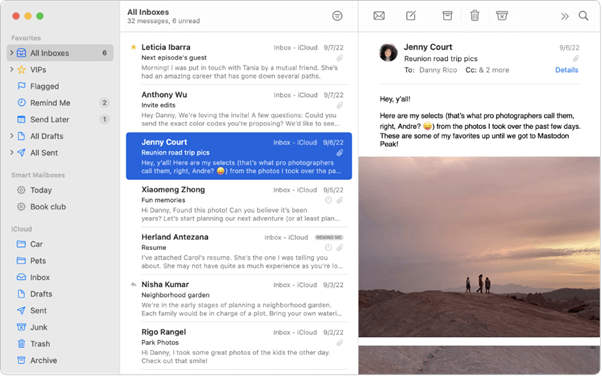 If you've ever found yourself facing problems with Apple Mail, fear not! In this comprehensive guide, we've curated a list of tried-and-tested fixes to address common Apple Mail issues. Whether you're struggling with syncing problems, missing emails, or other unexpected glitches, we've got you covered.
So, let's dive in and troubleshoot those pesky mail problems, allowing you to regain control of your inbox and stay connected effortlessly.
Also read: MacOS Sonoma Vs Ventura: Clash of the Titans (The Ultimate Comparison)
Before we begin…
Is your Mac acting sluggish and taking forever to perform even the simplest tasks? Don't worry, we've got the perfect solution to revitalize your Mac and make it run like new again! Introducing "Cleanup My System" by Systweak Software, the ultimate tune-up tool designed to breathe new life into your Mac and boost its performance to the max.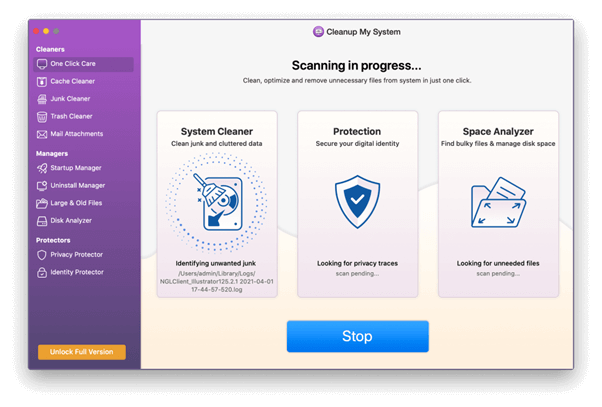 With Cleanup My System, you can say goodbye to frustrating slowdowns and hello to lightning-fast speeds. This powerful and intuitive software is tailor-made to identify and eliminate all those pesky digital clutter that's weighing down your Mac's performance.
Using Cleanup My System is a breeze – just a single click is all it takes to wave goodbye to the clutter that's holding back your Mac's true potential. You'll be amazed at how much space you can reclaim and how smoothly your Mac will start running after just one round of cleaning. Not only does Cleanup My System free up valuable space, but it also enhances your Mac's overall performance.
Get Cleanup My System
Mac Mail Not Working? Try These Solutions!
Solution 1: Restart your Mac
When dealing with software issues, a simple restart can work wonders by clearing out temporary data and resetting various system components. If your Mac Mail is still not working properly, try restarting your entire system. Here's how:
Step 1: Save and close any open applications or files.
Step2: Click on the Apple menu in the top left corner of your screen and select "Restart" from the drop-down menu.
Step 3: A confirmation window will appear asking if you want to restart your Mac. Click "Restart" to proceed.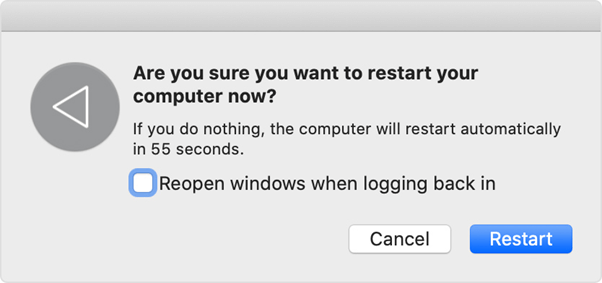 Wait for your Mac to shut down and start up again. Once it's back on the desktop, open the Mail app and check if the issue has been resolved. Sometimes, a simple restart can resolve underlying system conflicts and get your Mac Mail working smoothly again.
Solution 2: Force Quit the Mail App
In case restarting your device didn't help to resolve the Apple Mail not working issue. Try this quick hack is to force quit the application. Here's how you can do it:
Step 1: Go to the Apple menu on the top left corner of your screen.
Step2: Click on "Force Quit" to open the Force Quit Applications window.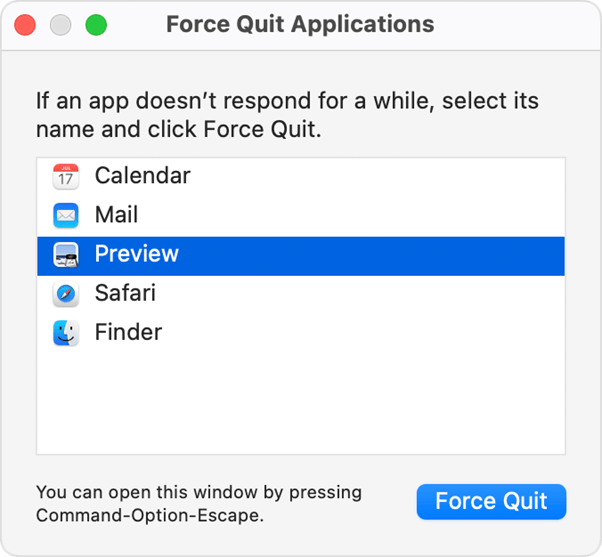 Step 3: In the list of active applications, locate "Mail."
Step4: Select "Mail" and click on the "Force Quit" button at the bottom right.
After force-quitting the Mail app, give it a moment to shut down completely. Then, relaunch the Mail app to see if the issue is resolved. Often, this simple step can fix minor glitches and get your Mail app back to normal functioning.
If the problem persists, don't worry! We have more solutions to try out to ensure your Mac Mail gets back in full working order. Stay tuned for our next solution, and let's get your email back on track!
Also read: Best Ways To Organize Photos on Mac: Streamline Your Mac's Photo Library
Solution 3: Delete Saved Mail States
If your Mac Mail is still misbehaving, the issue might be related to corrupted or outdated saved mail states. Deleting these states can sometimes resolve the problem. Here's how you can do it:
Step 1: Close the Mail app completely and open a new Finder window.
Step2: In the Finder menu, click "Go" and then choose "Go to Folder" (or press Shift + Command + G).
Step 3: Enter the following path and press "Go":
   ~/Library/Saved Application State/com.apple.mail.savedState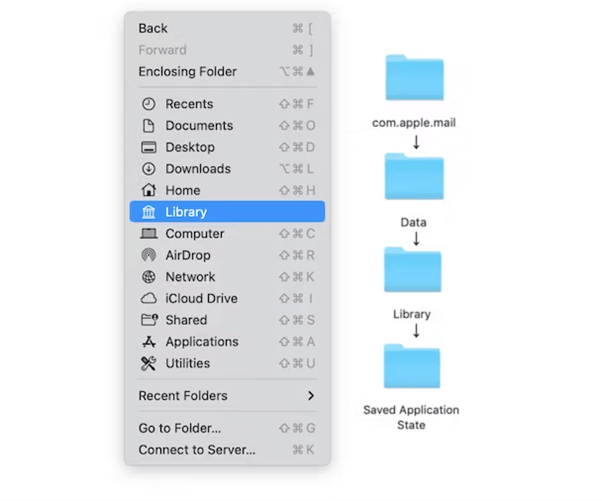 Step 4: You will now see a folder named "com.apple.mail.savedState."
Step5: Select this folder and move it to the Trash.
Step 6: Empty the Trash to permanently delete the saved mail states.
Once you've deleted the saved mail states, relaunch the Mail app. It will create fresh and updated mail states. Check if this resolves the issue you were experiencing with Mac Mail.
Solution 4: Merge All Mail Windows
To address the Mac Mail not working issue, there is a lesser-known command within your email client called "Merge All Windows":
To access this command, follow these steps:
Step 1: Click on "Mail" in the menu bar and then, navigate to "Window."
Step2: Locate and select "Merge All Windows."
By doing this, you can close redundant windows to reduce the impact on your Mail's memory, potentially leading to faster and smoother performance.
Also read: How to Delete Messages on Mac: Bid Goodbye to Clutter
Solution 5: Check Mail Activity
If your Mac Mail is still giving you trouble, it's worth checking the Mail Activity to identify any underlying issues with email accounts or server connections. Here's how you can do it:
Step 1: Open the Mail app on your Mac.
Step2: In the Mail menu at the top of your screen, click on "Window." From the drop-down menu, select "Activity." This will open the Mail Activity window.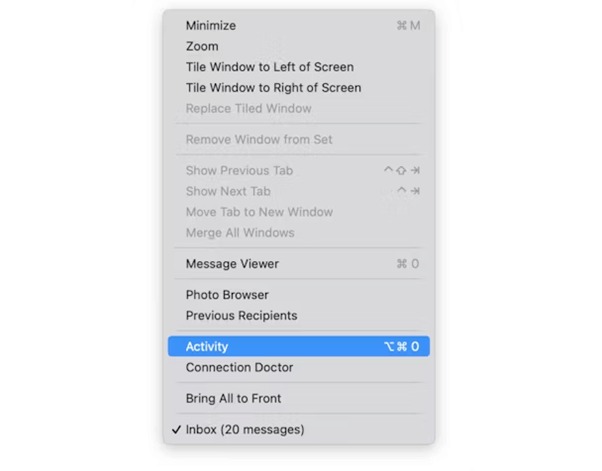 Step 3: In the Mail Activity window, you'll see a list of your email accounts and their respective activities.
Step4: Look for any accounts or actions that show errors, long delays, or unusual behavior. These may be indicative of the source of the problem.
Step 5: If you notice any problematic accounts or actions, you can try the following:
For email accounts showing errors, check the account settings to ensure they are configured correctly.
If there are long delays, it could indicate issues with the server or network. Check your internet connection and server settings.
For unusual behavior, consider disabling any third-party plugins or add-ons that might be causing conflicts with the Mail app.
Step6: After making any necessary adjustments, close the Mail Activity window and restart the Mail app.
Checking the Mail Activity can provide valuable insights into what might be causing the issues you're experiencing with your Mac Mail. By pinpointing and addressing the root cause, you increase the chances of restoring your Mail app to optimal performance.
Solution 6: Update macOS
Keeping your macOS up to date is essential for maintaining the overall health and performance of your Mac, including the Mail app. Outdated system software can lead to compatibility issues and potential bugs that might affect the functionality of various applications, including Mail. Here's how you can update macOS:
Step 1: Click on the Apple menu in the top left corner of your screen. Select "System Preferences" from the drop-down menu.
Step 2: In the System Preferences window, click on "Software Update."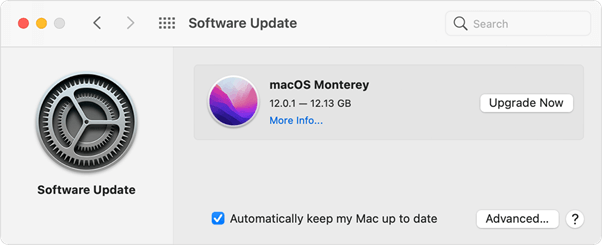 Step 3: macOS will check for any available updates. If updates are found, they will be displayed. Click the "Update Now" button to start the update process.
Step 4: Your Mac may need to restart to complete the update. If so, save your work and click "Restart" when prompted.
After the update is complete and your Mac has restarted, open the Mail app and check if the Mac mail not working issue was resolved.
Updating macOS ensures that your system is equipped with the latest features, security patches, and performance improvements.
Also read: How To Update Safari on Mac: A Step-By-Step Guide
Is Your Apple Mail App Still Acting Up?
This wraps up our step-by-step guide on how to fix the Mac mail not working issue. In conclusion, resolving Mac Mail issues is easier than you might think. By force-quitting the app, checking Mail Activity, updating macOS, and other simple steps, you can overcome common glitches and enjoy a seamless email experience.
Keep your Mac up-to-date and efficient, ensuring smooth communication in the fast-paced digital world. Happy emailing!