MacOS Sonoma 14.0 Unveiled: New Widgets, Features, Game Mode, Safari Updates, and More!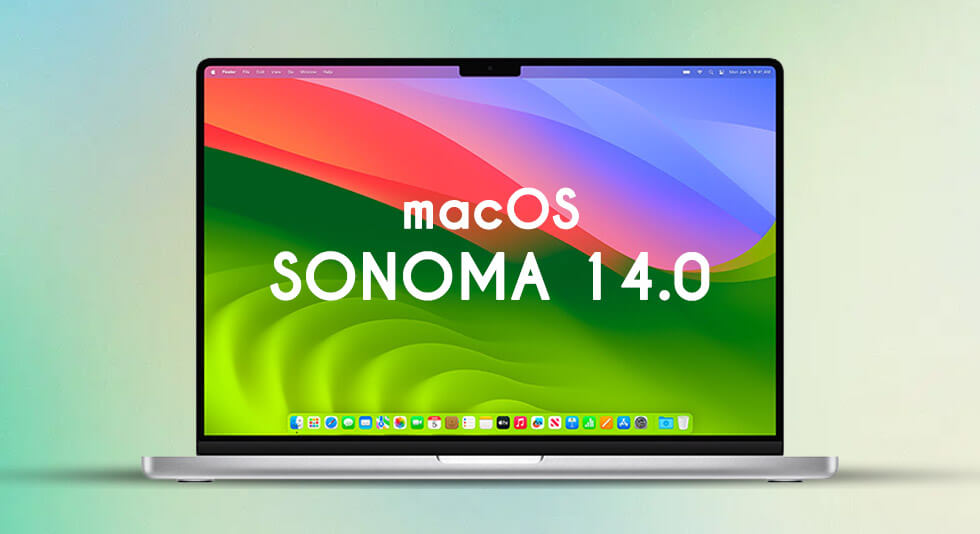 With the curtains drawn back on MacOS Sonoma 14.0, it's safe to say that Apple has once again exceeded expectations. A refreshing change, for sure. Yes, you heard that right. Packed with a plethora of exciting updates, this latest iteration promises to redefine the way we experience our Mac devices.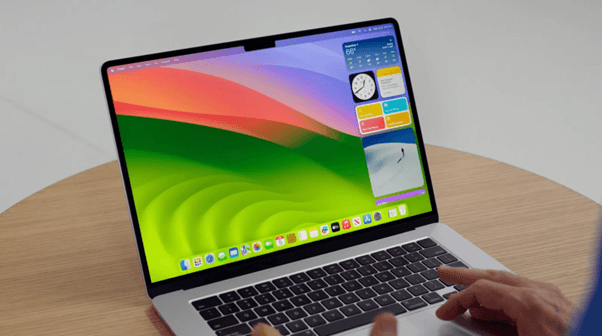 From stunning widgets that seamlessly integrate with your workflow to a revolutionary Game Mode that promises to elevate your gaming experience, Sonoma is set to make waves across the tech community. Add to this a slew of enhancements to Safari, and you have a package that's bound to leave users both impressed and delighted.
In this comprehensive guide, we'll dive deep into the heart of macOS Sonoma 14.0, exploring every innovative feature and improvement that Apple has introduced.
Also read: MacOS Sonoma vs. Ventura: Clash of the Titans (The Ultimate Comparison)
How to Upgrade Your Mac to macOS Sonoma 14.0?
Upgrading your Mac to macOS Sonoma 14.0 is a straightforward process. Follow these steps to ensure a smooth transition to the latest operating system:
Step 1: Check Compatibility
Before you begin the upgrade process, ensure that your Mac is compatible with Sonoma 14.0. You can find the list of compatible models on the Apple website.
Step 2: Backup Your Data
Creating a backup of your important files and data is crucial before any major software upgrade. You can use Time Machine or any other preferred backup method.
Step 3: Connect to a Stable Internet Connection
Make sure your Mac is connected to a reliable and stable internet connection. This is necessary to download the Sonoma 14.0 installation files.
Step 4: Check for Software Updates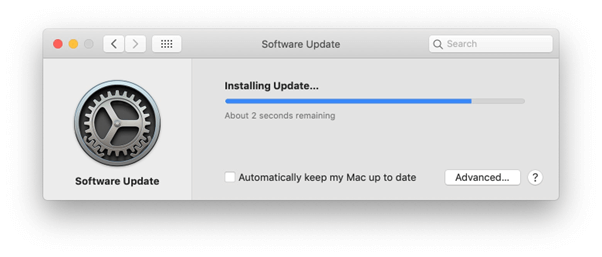 Before upgrading to Sonoma, make sure your current macOS version is up-to-date. Go to the Apple menu > System Preferences > Software Update, and install any available updates.
Step 5: Set Up macOS Sonoma 14.0
After the restart, you'll be greeted with the initial setup screen. Follow the prompts to select your language, region, and Wi-Fi network, and sign in with your Apple ID.
And that's it! Enjoy your enhanced Mac experience with macOS Sonoma updates 14.0!
Also read: How to Fix "macOS could not be installed on your computer" Error
MacOS Sonoma 14.0: What's New?
1. Interactive Widgets
macOS Sonoma not only elevates your desktop experience but also brings a touch of magic to it. Imagine having interactive widgets right on your desktop, no longer confined to the Today view. They're now front and center, ready to serve up information and shortcuts at your fingertips.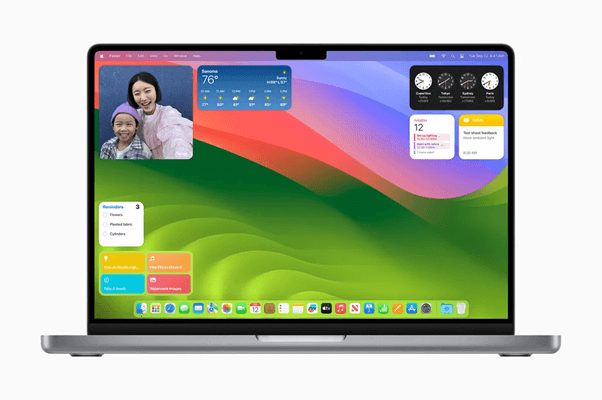 But that's not all. With Continuity, your Mac bridges the gap between devices like never before. Now, you can seamlessly integrate and interact with your favorite iPhone widgets directly on your Mac. It's a whole new level of convenience and connectivity that promises to revolutionize the way you work and play.
2. New Apple TV Like Screensavers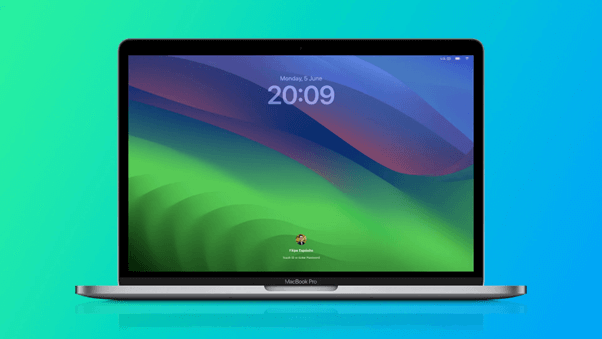 macOS Sonoma introduces a stunning array of Apple TV-like screensavers, each a mesmerizing slow-motion showcase of global destinations. These breathtaking vistas don't just stop at your screens – they seamlessly extend to matching desktop wallpapers, adding a touch of wanderlust to your workspace.
3. Game Mode
For gaming enthusiasts, Apple has a special treat in store. Say hello to the all-new Game Mode, specially designed for Macs powered by Apple's cutting-edge silicon chips. This ingenious feature optimizes your CPU and GPU to prioritize games, ensuring a buttery-smooth gaming experience that's bound to leave you at the edge of your seat.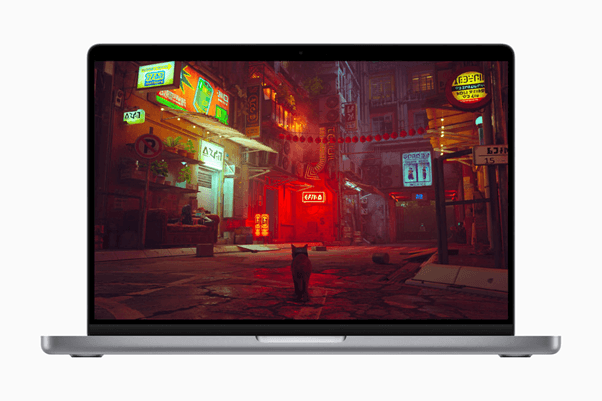 Get ready to lose yourself in the beauty of worldwide wonders and elevate your gaming adventures!
4. Video Conferencing
In the dynamic landscape of virtual meetings, macOS Sonoma steps up to the plate, offering a game-changing enhancement for video conferencing. Introducing the Presenter Overlay effect, a feature designed to revolutionize content sharing. Now, your presentations will have an extra layer of polish, ensuring that your message shines through with maximum impact.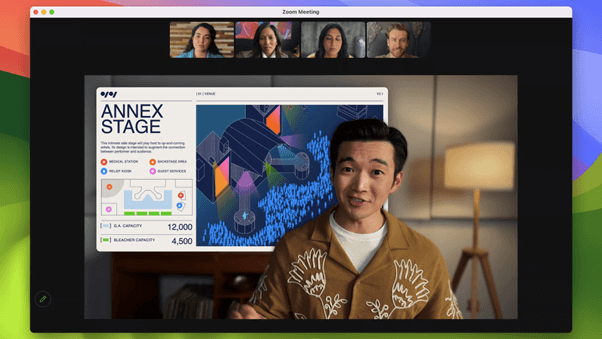 But that's not the only upgrade for the professionals out there. Sonoma introduces a high-performance mode for Screen Sharing, unlocking a whole new level of efficiency. Enjoy higher frame rates and near-instantaneous audio response, allowing content creators to seamlessly access their workflows from virtually anywhere. It's a leap forward in flexibility and productivity, ensuring that your creative endeavors never miss a beat, no matter where you are. Say hello to the future of virtual collaboration!
5. Enhanced Safari Private Browsing Experience
In macOS Sonoma, Safari raises the bar on privacy and user-friendly functionality. The Private Browsing mode now boasts an added layer of security with Touch ID authentication, ensuring your sensitive sessions remain confidential.
For those who balance work and personal browsing, the introduction of Profiles is a game-changer. Easily segregate your online activities for a seamless and organized experience.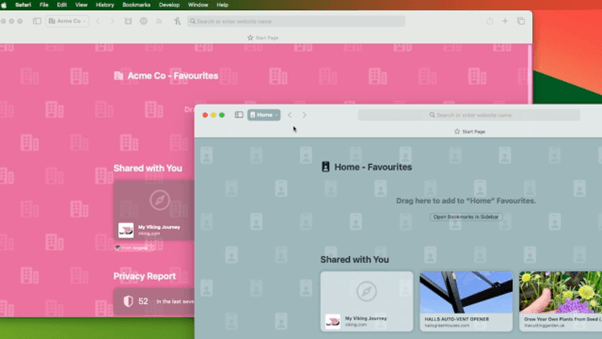 Concerned about online tracking and fingerprinting? Sonoma's Safari has you covered. With enhanced protections, your digital footprint is shielded more than ever before.
And here's the cherry on top: your favorite websites can now be saved as web apps on your desktop or dock. They'll operate just like regular apps, complete with a streamlined toolbar, offering a hassle-free and efficient browsing experience.
6. New Stickers in the Messages App
Get ready to express yourself in a whole new way with the revamped Messages app in macOS Sonoma! Now, every emoji transforms into a lively sticker, adding an extra layer of fun and creativity to your conversations.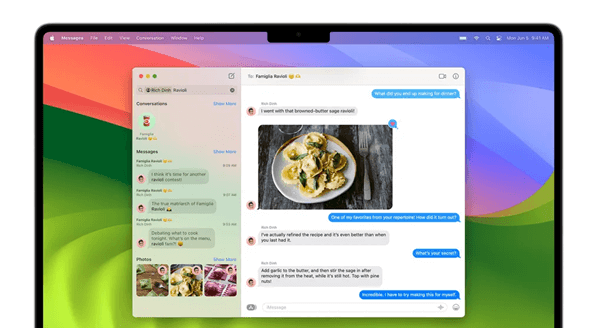 For all the pet lovers out there, the People album now boasts a special talent – recognizing your furry friends! Easily organize and relive moments with your beloved pets at a glance.
7. Visual Lookup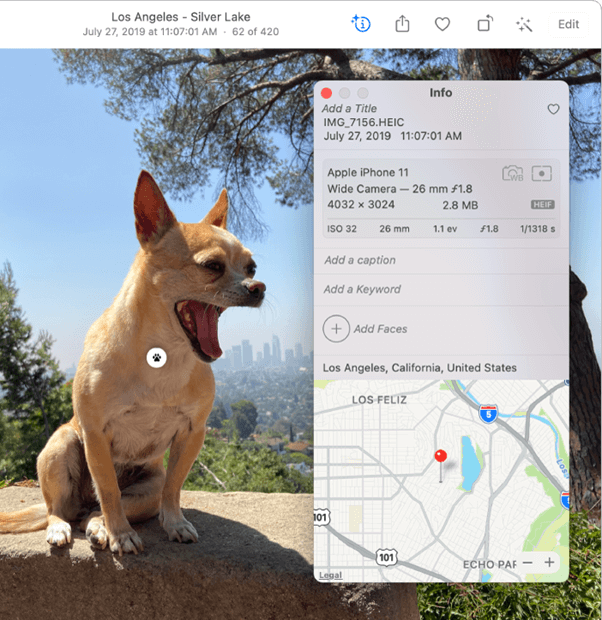 Sonoma's Visual Lookup feature steps up its game by working seamlessly with videos. It's not just images anymore – now, your videos can be analyzed to identify food items and even decipher symbols on labels and signs.
Also read: How To Fix Wi-Fi Issues On macOS Ventura
8. Improved Autocorrect Accuracy
In macOS Sonoma, typing becomes a seamless, error-free experience thanks to a powerful transformer-based language model that greatly improves autocorrect accuracy. Say goodbye to frustrating typos and hello to smoother, more accurate typing.
But that's not all – Sonoma introduces a game-changing feature: inline predictive text. Now, you'll receive both single- and multi-word predictions right at your fingertips, ready to be added with a simple press of the Space bar. This dynamic tool anticipates your next words, making your typing flow effortlessly.
9. Expanded Communication Safety
In macOS Sonoma, Apple leaps forward in safeguarding children online. The Communication Safety features have been expanded to detect not only explicit photos but also videos containing nudity when shared through Messages and the system Photos picker. This added layer of protection ensures a safer digital environment for young users.
Struggling with a Slow Mac? Say Hello to Cleanup My System App
Experiencing a lagging Mac? Look no further! Introducing Cleanup My System by Systweak Software, your ultimate solution for a speedier Mac. This top-tier tune-up tool effortlessly locates and eliminates clutter like redundant files, oversized attachments, and aging files with just one click.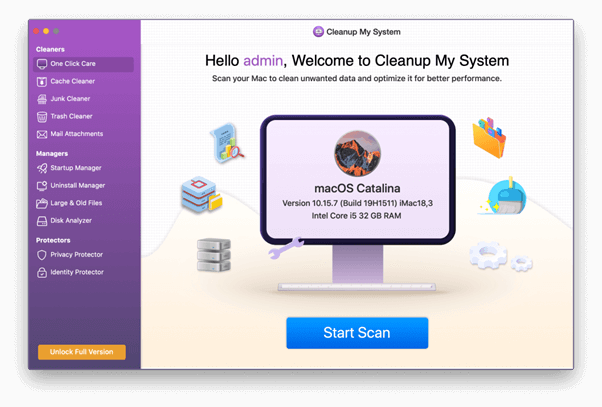 Regain system speed, boost productivity, reclaim storage space, and optimize your Mac for peak performance.
Elevate your Mac's performance today!
Also read: How To Install macOS Sonoma Beta on Your Mac
Wrap Up..
MacOS Sonoma 14.0 is nothing short of a game-changer, redefining the Mac experience with a host of innovative features. From interactive widgets to stunning screensavers, it offers a visual treat. The Presenter Overlay and high-performance mode enhance video conferencing and content creation. Safari's privacy features and web apps add an extra layer of convenience. Messages and Photos get exciting upgrades, while typing becomes a breeze. Plus, expanded safety protections and sharing permissions emphasize Apple's commitment to a secure, user-centric ecosystem.
Upgrade now and discover the future of Mac computing!