How to Optimize macOS Sonoma To Get New Features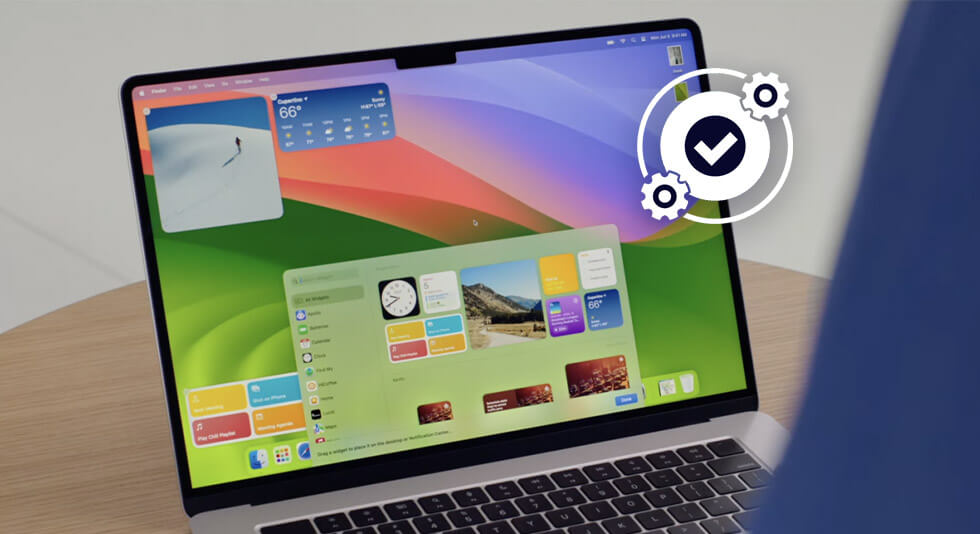 With the release of MacOS Sonoma, Apple has once again raised the bar, introducing a host of new features and improvements. From enhanced performance to refined user experiences, Sonoma promises a seamless computing environment for Mac users.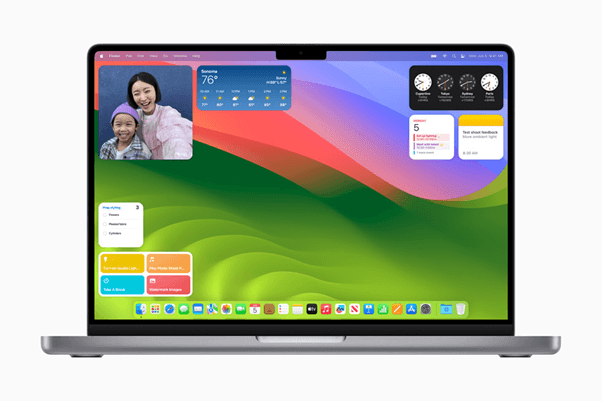 To unlock the potential of this cutting-edge operating system, it's essential to go beyond the surface and explore its optimization details. This guide is here to help you do just that! We'll walk you through a series of steps and best practices to ensure that your macOS Sonoma experience is nothing short of exceptional.
Whether you're a seasoned Mac enthusiast or a newcomer to the Apple ecosystem, this comprehensive guide will equip you with the knowledge and tools to optimize macOS Sonoma to get the most out of your system. From system tweaks to application management, we'll cover it all, allowing you to uncover the full potential of macOS Sonoma.
Also read: MacOS Sonoma 14.0 Unveiled: New Widgets, Features, Game Mode, Safari Updates, and More!
Before we begin…
Experiencing a slight slowdown on your Mac following the upgrade to macOS Sonoma? Fret not, as we've got just the solution to fine-tune your Mac's performance. Head over to the Mac App Store and get your hands on "Cleanup My System" for a seamless installation. This nifty tool is poised to revitalize your Mac's speed and efficiency, ensuring you experience the full potential of macOS Sonoma.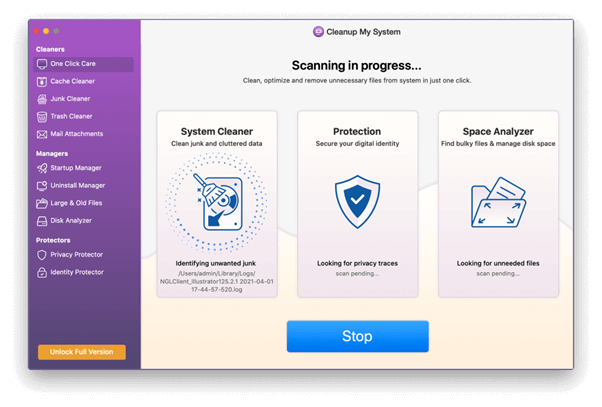 Cleanup My System is a powerful utility designed to eliminate clutter, optimize system resources, and enhance overall performance. Its intuitive interface and robust features make it an indispensable companion for Mac users seeking a smoother computing experience. With this tool, you'll not only notice a marked improvement in speed but also enjoy a more streamlined and responsive system, allowing you to make the most of macOS Sonoma's capabilities.
Get Cleanup My System
How to Optimize macOS Sonoma: Quick Tips
Improving Sonoma's performance can be a straightforward and speedy process. These tweaks take just a few minutes, so they're definitely worth giving a shot!
1. Check for Updates
Maintaining the latest version of macOS on your Mac is paramount for optimal performance. Updates encompass essential bug fixes, performance enhancements, and crucial security patches. Hence, the initial step towards optimizing Sonoma should always be checking for updates.
Here's how you can do it:
Step 1: Navigate to the Apple menu and select System Settings.
Step2: Proceed to General > Software Update. Allow a moment to see if any updates are available.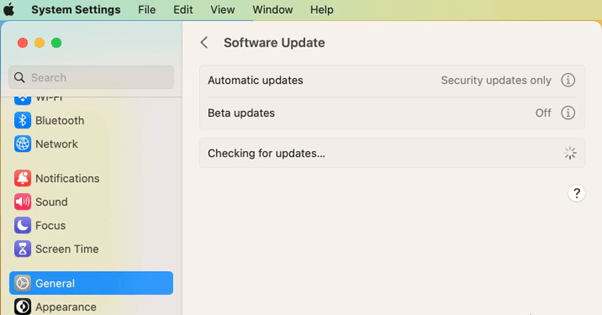 Step 3: If an update is found, simply follow the on-screen instructions to complete the installation process.
This ensures your system is equipped with the latest improvements, setting the stage for an enhanced Sonoma experience.
Also read: MacOS Sonoma vs. Ventura: Clash of the Titans (The Ultimate Comparison)
2. Update the Apps
If you've observed that some of your apps are running slower after installing macOS Sonoma, it's a good idea to check for updates. Occasionally, apps require updates to be fully compatible with macOS Sonoma. If you downloaded  the app from the Mac App Store, simply launch the app and head to the Updates section to check for  available updates.
3. Disable Visual Effects
macOS Sonoma boasts impressive visual effects that enhance its appearance, but also require  a significant amount of  your Mac's resources. These effects encompass Magnification and Genie Effect in the Dock, Transparency and motion enhancements, and Stage Manager.
To optimize macOS Sonoma's performance, consider disabling these effects:
Step 1: Navigate to System Preferences and select Desktop & Dock.
Step2: Adjust the Magnification slider to zero and choose "Scale Effect" from the "Minimize Windows Using" menu.
Step 3: Scroll down and switch off Stage Manager.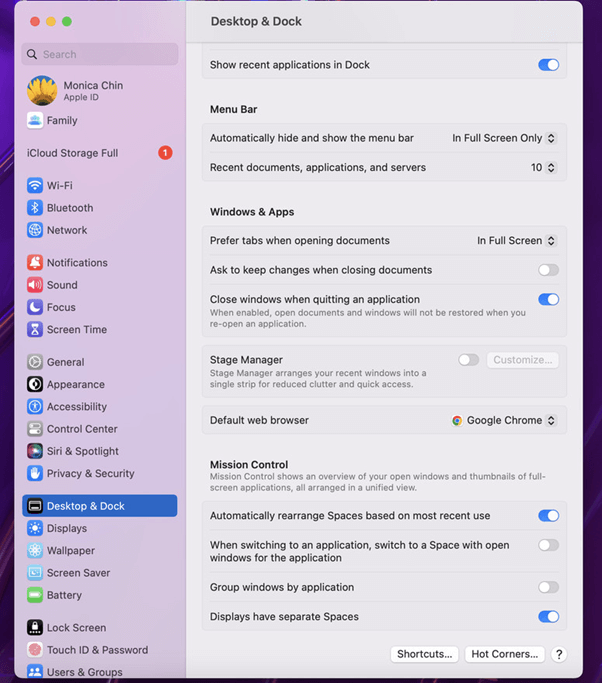 Next, head to the Accessibility section in System Preferences:
Step 1: Click on Display.
Step2: Enable "Reduce Motion" and "Reduce Transparency."
By implementing these adjustments, you'll experience a smoother and more efficient operation of macOS Sonoma.
Also read: How To Fix macOS Monterey is Running Slow Issue
4. Manage Background Applications
If your Mac has numerous background applications and services running, it might lead to a slowdown. Another effective method to optimize macOS Sonoma is to review and deactivate unnecessary items.
Here's how you can do it:
Step 1: Navigate to System Preferences > General > Login Items.
Step2: Examine the "Allow in Background" section. If you come across any applications that you don't use, simply toggle them off.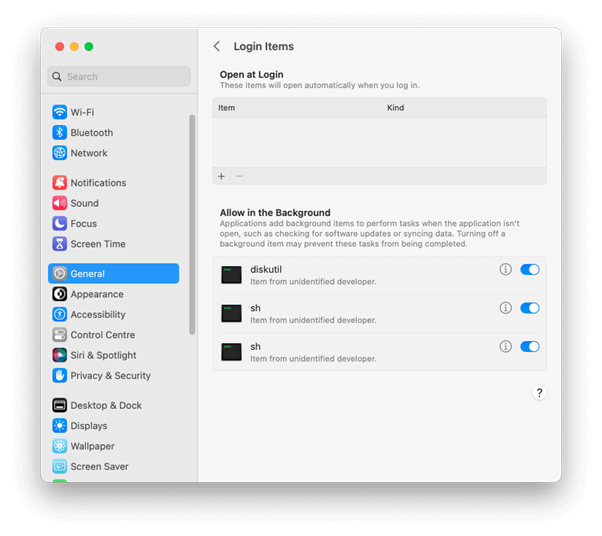 Step 3: Also, inspect the "Open at Login" section and remove any apps that aren't essential.
By following these steps, you'll ensure that only the essential applications are active, contributing to a smoother operation of macOS Sonoma.
5. Use Stacks to Declutter the Desktop
Simplifying your workspace is crucial for optimizing Sonoma. The good news is, that you won't need to individually organize all those files. Leveraging the Stacks feature in Finder, you can effortlessly group them by file type. This not only declutters  your Desktop but also enhances overall performance.
Here's how to do it:
Step 1: Simply right-click or Control-click anywhere on your Desktop.
Step2: Choose the "Use Stacks" option.

With this straightforward step, you'll notice a cleaner Desktop and a more streamlined performance on macOS Sonoma.
Also read: How to Fix "macOS could not be installed on your computer" Error
6. Manage Startup Items
Over time, your Mac may accumulate various applications that automatically launch upon startup, potentially slowing down the boot process. To optimize Sonoma's performance, review and manage these startup items:
Step 1: Go to System Preferences. Select Users & Groups.
Step2: Click on your user account and then go to the Login Items tab.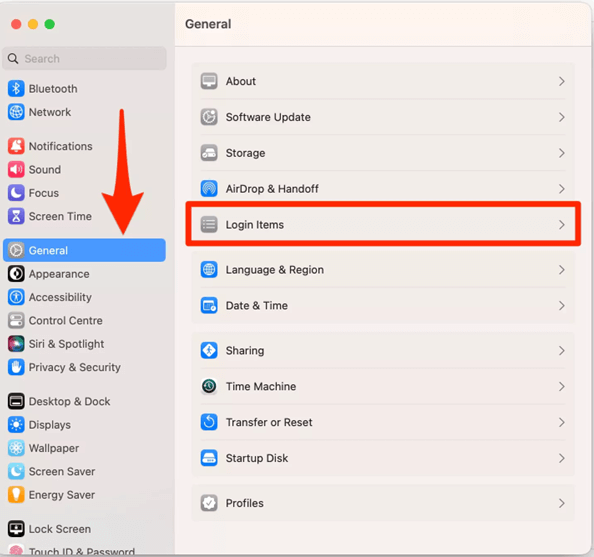 Step 3: Remove any unnecessary applications from the list by selecting them and clicking the minus (-) button.
By streamlining your startup items, you'll experience quicker boot times and a more responsive system on macOS Sonoma.
Speed Up Your Mac After Installing macOS Sonoma!
This wraps up our guide on how to optimize macOS Sonoma using simple tweaks. From updating system software to fine-tuning visual effects and managing startup items, these steps ensure a smoother, more efficient experience. Additionally, utilizing tools like "Cleanup My System" can further enhance overall speed and performance.
By implementing these strategies, you'll transform your Mac into a powerhouse of productivity. Your Mac will thank you with lightning-fast responsiveness and enhanced capabilities.
Did you find this post helpful? Feel free to share your thoughts in the comments box!