Best MS Paint Alternative for Mac: Get This Mac Equivalent To MS Paint Today!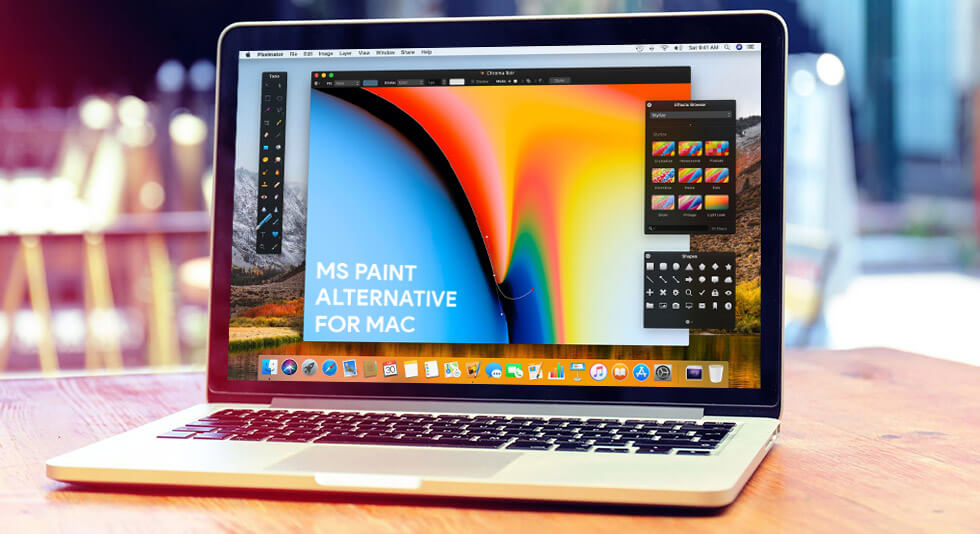 Get Creative with Paint for Mac: Top Microsoft Paint for Mac Solutions That Are Worth Trying In 2023!
Moving from Windows to macOS can be an exciting transition for many people. However,  It's normal to feel nostalgic about  features or programs that were left behind. One such program is MS Paint, a simple yet beloved graphics editor that has been a part of Windows operating systems for decades. While macOS has several built-in graphics editors, including Preview and Photos, they may not offer the same level of simplicity and familiarity as MS Paint.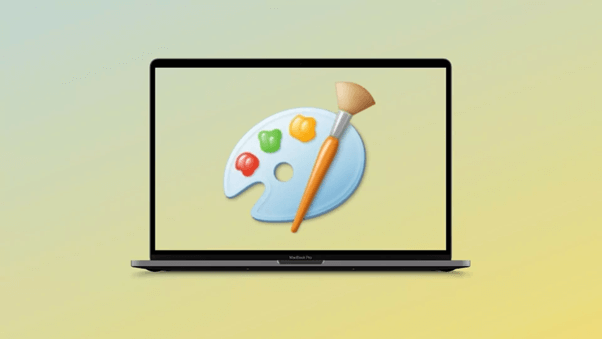 Well, the default Preview app on macOS is similar to MS Paint &  allows you to make basic edits to image such as cropping, resizing, rotating, and annotating without any hassle. However, it is not exactly the same as MS Paint.
That's why we are on the hunt for the Best Paint alternatives for Macs  that offer similar functionality and ease of use. Whether you need to create a quick sketch, edit an image, or annotate a screenshot, there is an MS Paint alternative for Mac that can help you get the job done.
Let's dive in and explore Microsoft Paint for Mac alternatives.
Best Paint Alternatives To Use On macOS
Depending on your needs, conducting thorough research, and testing out different options are key to finding the best MS Paint alternatives for Mac that meet your specific requirements & preferences.
1. Preview
Yes, you can use the Preview app on Mac as an alternative to MS Paint. While Preview is primarily an image viewer and PDF editor, it also offers basic image editing features that are similar to MS Paint. Some of the similar features that Preview offers include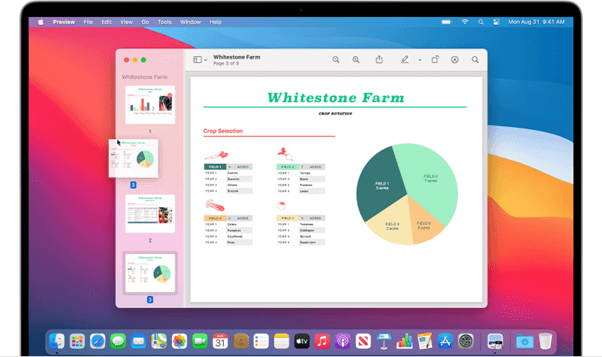 Drawing tools: Preview allows you to draw shapes, lines, and freehand drawings on an image. You can choose from a range of drawing tools, such as a pencil, marker, highlighter, and more.
Text tools: You can add text to an image using Preview. You can choose from a wide range of fonts, sizes, and colors to tinker with and you can also adjust the text alignment and spacing.
Selection tools: Preview offers a good range of selection tools that allow you to select a specific part of an image and execute manipulation tasks. This includes copying , cutting, or deleting  You can also use the selection tools to move or resize a selected area of the image.
Crop and resize: You can easily crop an image to remove unwanted parts or resize it to a specific dimension using Preview.
Annotate: Preview allows you to add arrows, shapes, and text boxes to highlight or annotate parts of an image.
While Preview may not offer as many advanced features as MS Paint, it is a great basic image editor that can be a useful alternative to Microsoft Paint for Mac to perform simple editing tasks.
2. Capto
If you're looking for powerful, lightweight, and versatile image editing software on your Mac similar to Paint, Capto is definitely worth considering. While it is primarily designed for screen capture and video editing, it also offers a range of basic image editing features that can rival MS Paint. Capto's drawing tools let you create precise shapes and lines, and its text tools let you add stylish and customized text to your images. You can also select and crop parts of your image, as well as annotate it with arrows, shapes, and text boxes.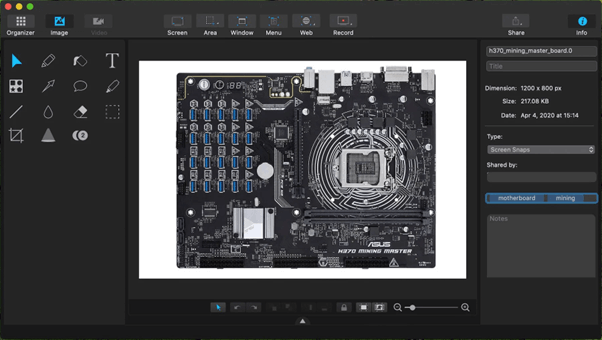 Capto's image editing features makes it a great alternative to MS Paint, offering a more intuitive and visually-pleasing interface, along with  advanced editing capabilities. Whether you need to create a quick sketch, edit a photo, or annotate a screenshot, Capto can help you achieve your goals with ease and efficiency.
3. Tayasui Sketches
Tayasui Sketches is a popular digital drawing and painting app for Mac that offers a range of advanced features and tools for artists and designers. With Tayasui Sketches, you can create stunning artwork, sketches, and illustrations using a variety of brushes, pencils, and colors. The app also offers advanced features to work with  layers, blending modes, and customizable brushes to create masterpieces. This make it a great alternative to MS Paint for creating unique  and professional-looking graphics.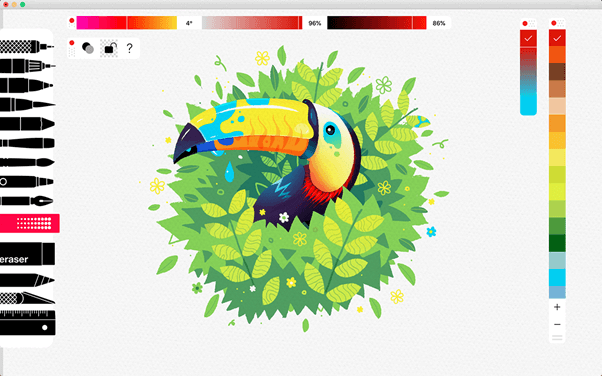 Additionally, Tayasui Sketches offers an intuitive and user-friendly interface, making it easy for beginners and experts alike to create beautiful and intricate artwork. Whether you're an artist, designer, or just someone who enjoys drawing and painting, Tayasui Sketches is definitely worth checking out as a powerful and versatile MS Paint alternative for Mac.
4. Paintbrush
Paintbrush is a free and simple image editing software that is quite similar to MS Paint in terms of its basic features and user interface. Like MS Paint, Paintbrush offers a simple and straightforward interface that is easy to navigate, making it a great option for those who want a lightweight and easy-to-use app.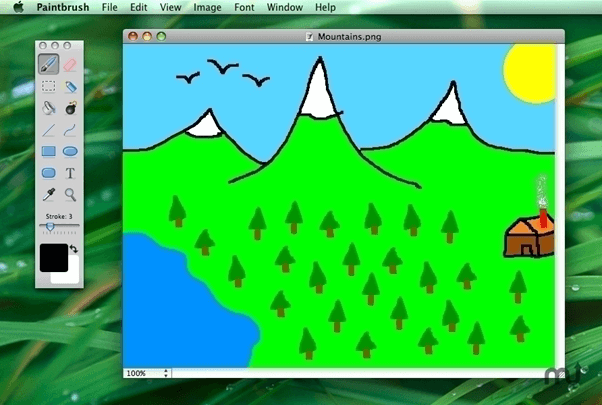 In terms of its features, Paintbrush offers a range of basic tools for image editing, including drawing tools such as adding lines, rectangles, and circles, as well as fill and spray paint tools. You can also crop and resize images, as well as add text to your images using a variety of fonts and styles.
5. GIMP
GIMP is a free and open-source image editing software that offers advanced features and tools for image editing, making it a great option for graphic designers, photographers, and other professionals.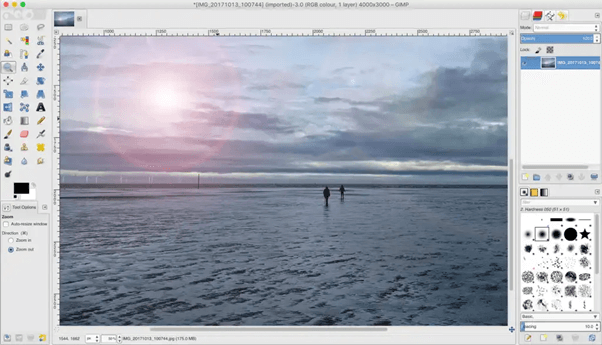 Like MS Paint, GIMP offers a multitude of   drawing and painting tools, such as pencils, brushes, and erasers. However, GIMP also includes advanced tools such as layers, masks, and filters, which allow for more complex editing tasks. Additionally, GIMP supports a wide range of image file formats, including PSD, TIFF, and JPEG, making it a versatile option for working with different file types.
GIMP's interface is customizable, so you can arrange the tools and panels to suit your workflow.
Top MS Paint Alternatives for Mac: Which Solution is Right for You?
When it comes to image editing and annotation on Mac, there are many tools that can surpass the functionality and ease of use that MS Paint used to offer. While Preview is a great built-in option for simple tasks, Capto is an excellent choice for executing more complex editing tasks. All thanks to its diverse toolkit that can perform advanced editing and annotation tasks with ease. And when inspiration strikes , Tayasui Sketches can help unleash your creativity, allowing you to create stunning artwork using a variety of beautiful pens and watercolors.
With these tools at your disposal, you can elevate your image editing and creative skills to new heights, without ever missing the simplicity and functionality of MS Paint.
Which MS Paint alternative for Mac you would pick from our list? Feel free to share your recommendations in the comments section!