10 Best Mac Temperature Monitor Apps In 2023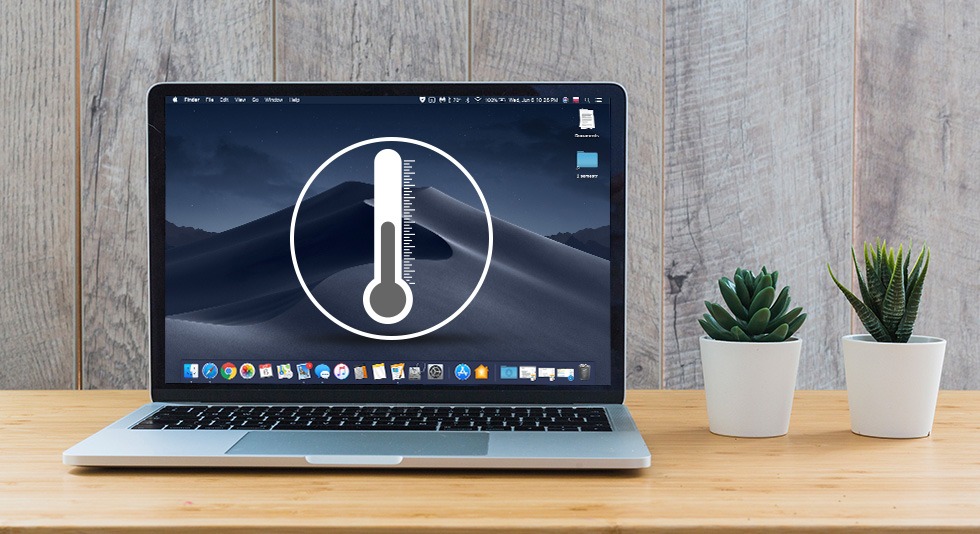 We all are surrounded by machines and use them on a daily basis, sometimes even unknowingly. But we know that after a period of time, users might face issues such as overheating, rising mac temperature and other performance issues, which could be a sign to do something but to optimize your device. Not that you put cool water on it but find ways to cool the device that you are using. But before you wish to cool down your device, learn about Mac temperature monitors which gives an insight about the happenings of your Mac in detail.
What is a MacOS Temperature Monitor?
Mac temperature monitor or Mac CPU temperature monitor is kind of an alert system that notifies you about the Mac overheating, all the in-built available sensors. Macos temperature monitor also informs you about the utilities to use when the macbook temperature goes beyond green light and might be dangerous for the device as well as yourself.
A macOS application that's been designed to draw Mac's temperature in the text- and icon-based form on the menu bar, is Mac Temperature Monitor.
Tip:- To keep your MacBook temperature at an optimum level, you can also use Mac Cleaner software which can be of great help. Here is a list of some of the best Memory Cleaner for mac. You might be wondering how? 
Let's take an example of CleanMyMac X which is one of the best cleaners available. CleanMyMac X comes with a comprehensive menu bar monitor. This is an extension of the desktop app and it lets you check your CPU temperature quickly.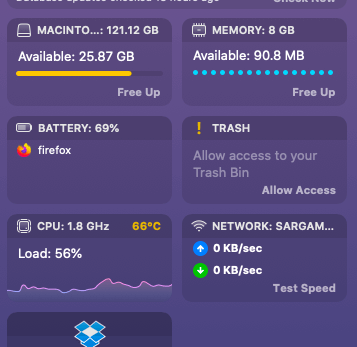 Get CleanMyMac X now

To know more about this wonderful tool, you can check out our comprehensive CleanMyMac X review. 
Since we have established the need for macbook temperature monitor, let's go through researched and best-picked-up-one's for you as below:
10 Best Mac Temperature Monitor Apps:
1. TG Pro
2. Temp Monitor
3. iStat Menus
4. MenuMeters
5. XRG
6. Monity
7. Fanny
9. iStatistica
10. SMART Utility
1. TG Pro – The Best MacOS Temperature Monitor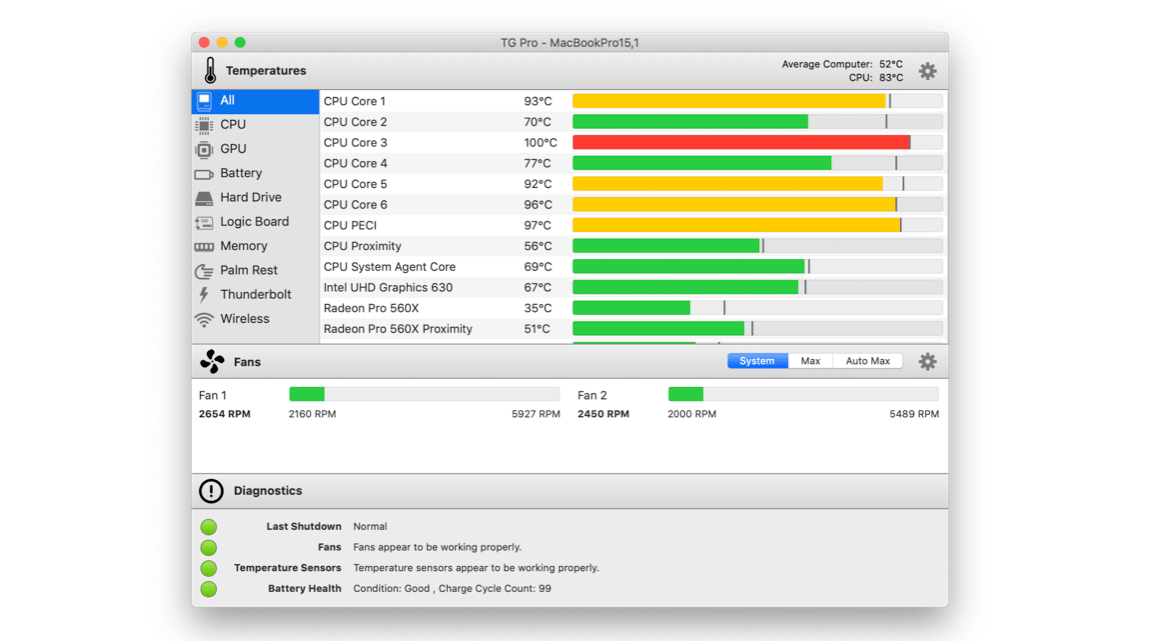 Another best in the list of Mac CPU temperature monitors that literally serves the purpose of extending the life of your Mac in the most accurate way. Like the above temperature monitors, TG Pro also watches closely and monitors the sensor temperatures. And in case any of them are heating more than they are supposed to, it boosts the fan speed and tries to keep the Mac cool.
TG Pro performs hardware diagnostics and checks the battery health to take appropriate actions that come in favor of using Mac to an optimum level.
When it comes to compatibility, TG Pro supports all Macs from 2008 and newer along with other multiple models of MacBook Pro for CPU temperature monitor on Mac. Checkout In Depth Review of TG Pro.
Get TG Pro From here
2. Temp Monitor – Macbook Temperature Monitor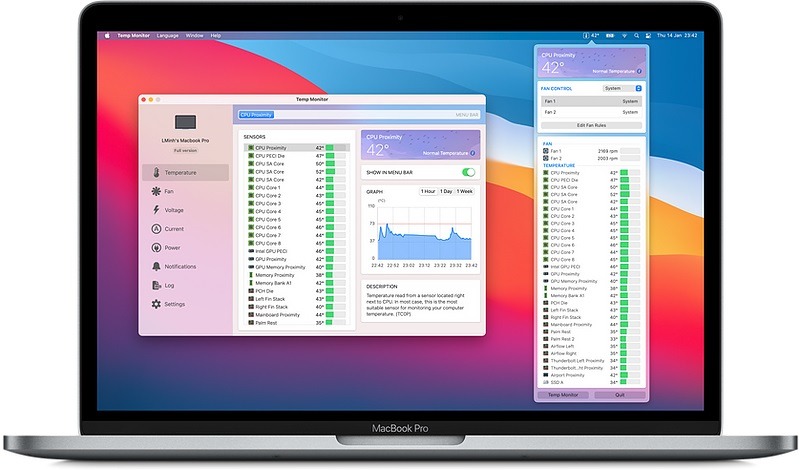 A self-explanatory tool where Temp stands for "Temperature," not "temporary." Temp Monitor is one of the best and promising tools that monitors your Mac's temperature like a pro.
A tool that monitors the processes and apps running on your Mac and even shows you all the available sensors on the device.
It does alert you whenever any of the sensors overheat or goes above the green light. The best part is that this mac temperature monitor has a fan control feature that cools down your Mac in these situations.
A combination of all the amazing features you can expect from a Mac CPU temperature monitor comes with this power-packed bundle. The temp monitor also supports multiple languages as the language shouldn't be a barrier to use a tool that literally increases your Mac's life. Isn't it great?
Download From Here
3. iStat Menus – Mac CPU Temperature Monitor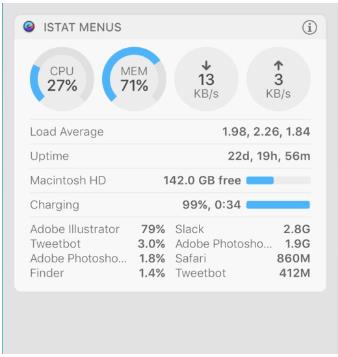 iStat Menus is apparently one of the most trusted and used Mac temperature monitors with continuous improvements and latest updates. Clearly, this is the most advanced tool that comes with lots of great features to make the user's experience more delightful.
It categorizes the notifications into CPU, network, disk, battery, weather, and others that show the system's performance and the affecting factors.
To successfully run the iStat Menus on your Mac, you will require macOS 10.11 and above. This MacBook Pro temperature monitor also provides you with additional features like weather conditions, wind speed, wind direction and more. Isn't that different and great?
You can gather the credibility of this tool via below appreciations:
"I love the weather forecast notification in iStat Menus 6." – Bryan Chaffin, The Mac Observer
there's a new version and it's better, more detailed and more comprehensive than ever." – Peter Cohen, iMore
"We truly lost count trying to figure out how many different statistics it reports on but this mass of data is displayed remarkably clearly." – William Gallagher, Apple Insider
Go ahead and download iStat Menus Here
4. MenuMeters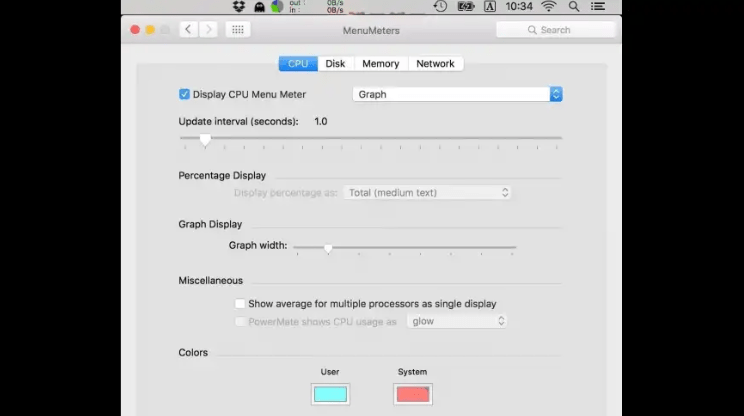 Image source: macupdate.com A free yet effective Mac temperature monitor, MenuMeters comes with a few limitations. It works on any macOS 10.11 and above. It's an open-source and free platform that includes the CPU, memory, disk, and network monitoring tools.
With the last update in mid-2015, the tool needs to run outside of the system preferences. MenuMeters provides a proper balance of cleanly-presented info and configuration that you don't get to experience in most of the top-class tools.
To learn more about MenuMeters and download the same, please refer to the below links:
Get This From Here
5. XRG (X Resource Graph)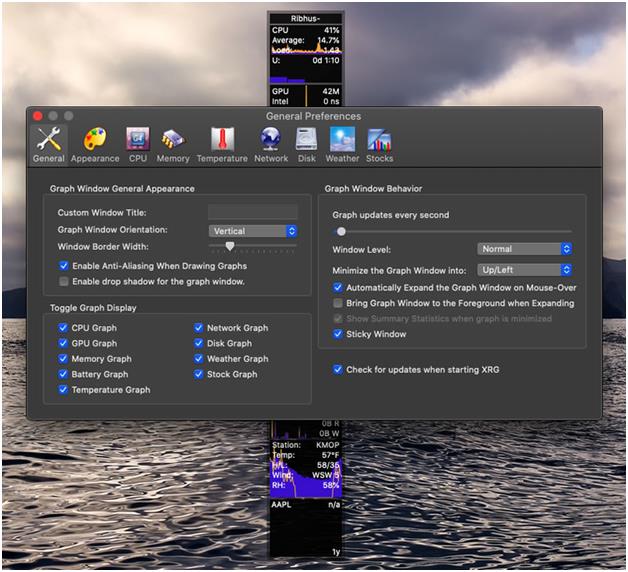 An open-source system monitor that comes with the goal of being the successful functional system monitor for Mac. The tool is planning to achieve this goal by monitoring the running apps and processes on the Mac and keep them to optimum use. Like other mac temperature monitoring tools, XRG will monitor the CPU activity, machine performance, memory usage, battery status, etc.
Keep your MacBook at optimal temperature so you can play games without any problems. No more need to waste precious hours and your money on the search for an honest, profitable and interesting slot machine. The best slots for real money, which you can play without registration, collected on the site Funny slots http://fslots.com.ua/. For the convenience of users they are divided according to the providers, and you can play on any that you fancy. For those who are not ready to take risks yet, there are demo versions of the games.
As Lawrence I. Charters (Director of Web Operations at The Washington Apple Pi Journal Online) stated, "When things get busy…this little application is far more colorful. And far more useful: your coworkers, relatives, loved ones, and complete strangers will be impressed. It doesn't make a bit of difference what your Mac is doing: the graphs show that it is working hard and, presumably, so are you."
To know more about his reviews on XRG, please visit the page.
You can download XRG with the latest version here.
6. Monity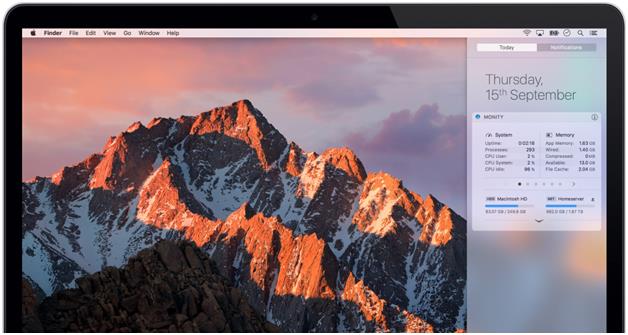 If you are still thinking about how to monitor MacBook Pro temperatures then Monity is another option in the line. Get Monity and you will be able to understand the memory usage, network and disk usage along with battery status in one single glance. We certainly hope that such an easy viewing of Mac temperature would attract your attention.
Interestingly, it is a very lightweight application that keeps your menu organized and doesn't play with it messily. An advanced widget and one of the best Mac temperature monitors in the market.
Download Monity.
7. Fanny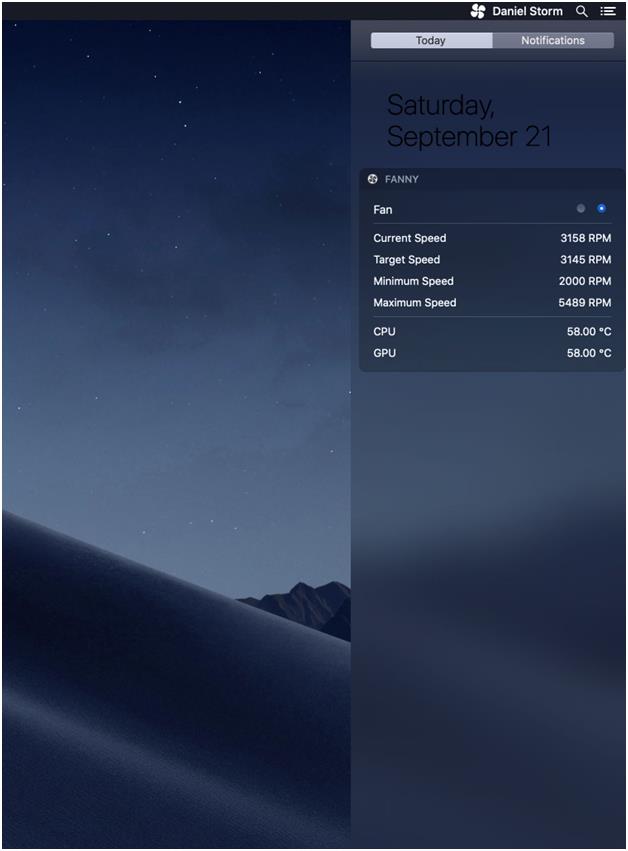 How to check Macbook temperature? Get Fanny in your computer system! It comes in the form of a free notification widget and has the most compact design when compared to its competitors. This Mac temperature monitor gives you an insight of system fans and CPU/GPU temperature without cluttering the work space. You would surely like this feature of Fanny.
Apart from the above mentioned feature, one can find information on current speed, target speed, number of fans and more using this MacBook air temperature monitor.
Download Fanny from here.
8. coconutBattery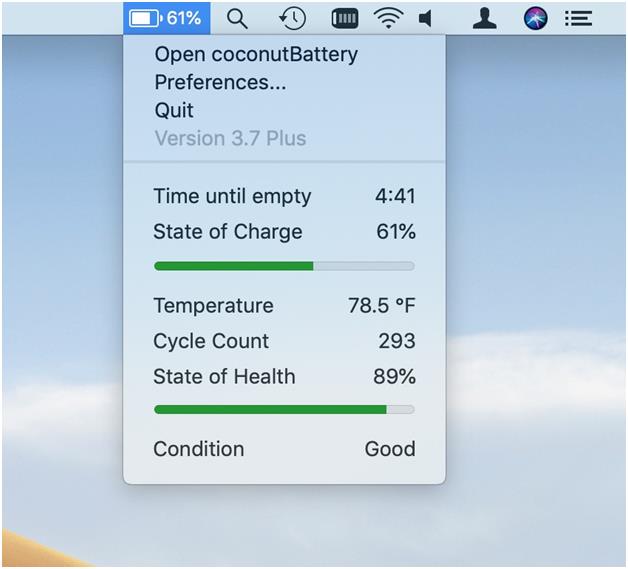 Let your Mac take a quick battery health checkup with coconut Battery which is a good and free to check macbook temperature! You may not exactly want to call it a mac temperature monitor but it helps in providing live information about your Mac. But you can definitely save the battery of your Mac by eyeing the measurable changes in a Mac's lifetime. It is a freeware but you can look for its higher version with a simple online purchase.
Get coconutBattery for your Mac here.
9. iStatistica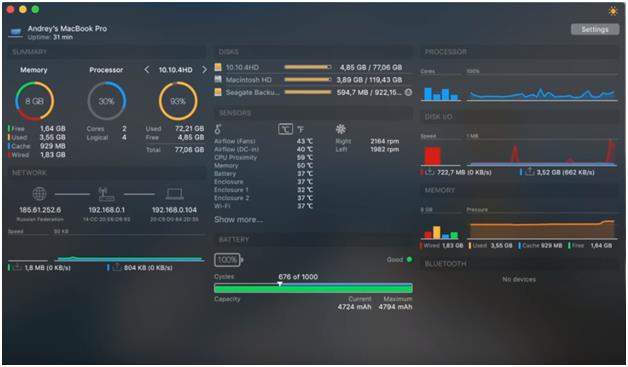 Another Mac temperature monitor app is iStatistica which is a system monitoring widget and gives you a summary of Mac with battery information, network activity, temperature sensors and fans monitor. Thankfully, the information is available in languages such as English, French, German, Spanish, Italian and Russian.
With that, get the details of CPU, RAM usage and network stats like external, gateway and local IPs, speed rate and more. This free plugin of Mac temperature monitor is a good combination of features to find CPU temperature monitor on Mac.
Download iStatistica by clicking here.
10. SMART Utility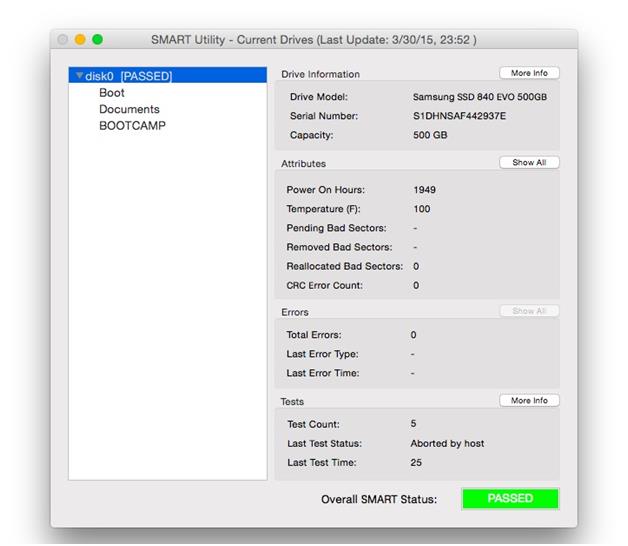 SMART abbreviated for Self Monitoring Analysis, and Reporting Technology is an essential tool if you want to keep track of Mac temperature efficiently. The tool not only informs you about the temperature but also any kind of hardware glitches or electrical problems associated with the system. CAUTION: If it tells you to replace the hard disk, make sure that you take the data backup and then do the same.
With that, it supports scanning in the background, displays information in the menu bar, printing driver reports, and keeps running hardware checks timely. Why would you want to miss such a huge bundle of utility tools and Mac temperature monitor.
Download SMART Utility here.
Additional Questions On Mac Temperature Monitor:
Is Mac's in-built Activity Monitor good enough for Mac Temperature?
Mac's in-built activity monitor is quite good enough to let you know the device's performance on the basis of the processes currently running on your Mac. It's a tool that helps you manage the tasks running on Mac so that you can take proper steps to make optimum use of the device capacity and keep it running.
This activity monitor is kind of a task manager on mac that helps you look through the running apps/processes in a list form as above. It also shows how those apps/processes affect the CPU, energy, memory, or network usage now the question is if the in-built activity monitor isn't good enough to watch Mac's performance. And the answer is, sometimes "yes", sometimes "no".
First of all, it all depends on the user as to how often he/she uses this in-build feature that gives you the best results in five categories. Second, if he/she is using the tool quite often and still the device has performance issues, the tool hasn't been updated with the latest version.
For example, in your PC/laptop, you already have Windows Defender; however, you try and install different antivirus software to keep the system clean. It's as simple as that.
Why do we need a Mac Temperature Monitor/Mac CPU Temperature Monitor?
We all spend a good amount of money to get a Mac and get the best of the best features to use it for a long time. But what if you start facing issues on Mac just after buying or in the warranty period. You can get things fixed till the time it's in warranty but what after that.
In that case, we need these tools or a Mac CPU Temperature monitor that watches the Mac's running processes closely and gives you chart-like data. This outcome shows if the system is running smoothly or it's getting heated due to heavy usage.
This self-explanatory term helps you big time to check the patterns of your device before using it to the optimum level.
So yeah, we need a Mac Temperature Monitor just like you need a Smart Band or Smartwatch to check if your body is functioning properly.
Wrap Up – Macbook Temperature Monitor
Since we all know that our Mac requires the best treatment in case it goes down. But my concern is, why go to the stage where we need to look for treatment? That is why we need to keep the required and necessary tools in the system already to keep the Mac cool and running flawlessly.
To make the most use of your Mac, we have enlisted above the top used, promising, and advanced Mac CPU temperature monitors. These tools are going to monitor every aspect of your Mac and give you the result. You can then check which factor is affecting your system's performance.
Do give them a try and let us know if any of these worked out best for you. If you are using some other temp monitor without any hassle, don't forget to share it with us in the comments below.
FAQs: Mac Temperature Monitors